First a physician, Dr. Lijun Xia has become a research star
As a young physician in China, Dr. Lijun Xia treated people with life-threatening blood diseases. But few medications existed to help the people he cared for, and over time, the hematologist grew frustrated.
"I wanted to do better for my patients, to give them a chance to live," he says. He realized that research held the key to finding new treatments. So, in 1995, he took a leap. Sight unseen, he came to Oklahoma for a postdoctoral fellowship with OMRF's Dr. Rodger McEver, an internationally recognized expert in the field of cardiovascular biology research.
In the quarter-century since, all spent at OMRF, Xia has become a research star in his own right. His work, which began with the study of cells that line the walls of blood vessels, has expanded into new and unexpected areas.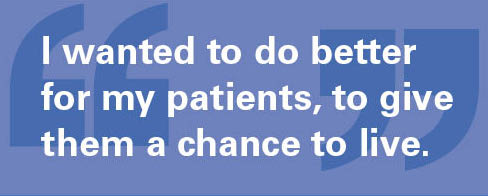 He has made a series of novel findings about a group of sugars known as O-glycans, discoveries that could help patients with fatty liver disease, a condition that affects as much as a quarter of the world's population and can lead to liver inflammation, cirrhosis and liver cancer. He's also identified a previously unknown genetic disease, a skeletal disorder for which he's now working to start a clinical trial for an experimental therapy.
His interactions with two Oklahoma girls living with the rare illness have underscored the importance of this effort. "Once you see the patient, it makes you think how your research can help solve a real problem," says Xia, who holds the Merrick Foundation Chair in Biomedical Research at OMRF. "It gives you more motivation."
In the fall, he once again broke new ground, this time publishing a series of insights about the microbiome, microorganisms that live in our bodies and outnumber our own cells by a factor of 10 to 1. The work appeared in Science, perhaps the most influential of all scientific journals.
Xia's new findings center on microorganisms that live in the colon. The research could blaze trails to new therapies for inflammatory bowel disease and people who've had portions of their bowels removed due to conditions like colon cancer and ulcerative colitis. The work could also help explain why the use of antibiotics often creates problems in our digestive systems.
"Our microbiome begins to develop at the moment of birth and evolves throughout our lives," says Xia. "It's essential for the growth and maturation of the acquired immune system in our body. When it's not well developed or cared for, it doesn't operate as it should, which can lead
to diseases."
Just after the new year, Xia also received a major National Institutes of Health grant known as a COBRE, in which he'll mentor a group of junior investigators. The grant is the same type that helped him launch his own lab at OMRF.
"Dr. Xia received funding from a COBRE nearly 20 years ago," says McEver. "With the opportunity to now lead one of his own, it's come full circle."
Illustration by Daniel Hertzberg
—
Read more from OMRF's 2020 Annual Report
A Year of Challenges
New Hope for Treating Vision Loss
A Homecoming of Sorts
Honoring a Recovered Texan
An Anti-Aging Pill?
Old Drug, New Tricks
Healing Broken Hearts
How 2020 Changed Science