Dr. Stephen Prescott joins the Oklahoma Hall of Fame
Will Rogers. Ralph Ellison. Woody Guthrie. Ada Lois Sipuel Fisher. Sequoyah.
Now, add Dr. Stephen Prescott to the list of Oklahomans who have received the state's
highest honor.
In November, OMRF's president was inducted into the Oklahoma Hall of Fame.
The Hall saluted Prescott for his leadership at OMRF. Since coming to the foundation in 2006, he's engineered the largest campus expansion in OMRF's history and helped guide a trio of drugs discovered in the foundation's labs to market. During his tenure, the National Institutes
of Health has three times named OMRF an Autoimmunity Center of Excellence, one of only 10 in the country.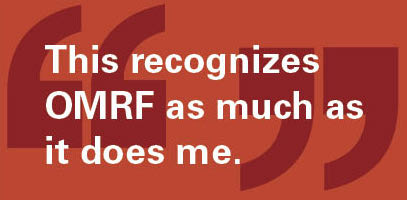 "This recognizes OMRF as much as it does me," says Prescott. "We have a world-class group of scientists, and it's also a world-class group of people."
In his speech presenting Prescott for induction, OMRF Board chair Len Cason remembered the nationwide search that ultimately brought Prescott to Oklahoma. The ideal candidate, Cason said, had to be "a great scientist" who was also "able to network with governors, senators and congresspeople." Likewise, OMRF's next president would need to be an adroit administrator and fundraiser. And, of course, joked Cason, that person "must not be a Texan."
After hunting for a year, Cason recounted, "All roads led to Steve Prescott." Despite his Lone Star roots – Prescott was born and raised in College Station – OMRF offered the internationally recognized vascular biologist the job. When he accepted, "It was a game-changing decision," says Cason. "For OMRF, for people like me who know Steve, and for the state of Oklahoma."
The 2020 Hall of Fame ceremony played out quite differently than in past years, when, for instance, Russell Westbrook presented Kevin Durant before a packed house at the Renaissance Hotel and Convention Center in Tulsa or Vince Gill sang to a live audience at the Cox Convention Center. Due to Covid-19, each piece of the event – introductions, speeches by presenters and honorees, plus biographical vignettes about Prescott and his fellow members of the class of 2020 – was prerecorded. Then, video editors stitched everything together and aired it in a single 90-minute simulcast on television, YouTube and Facebook Live.
Although Prescott says he would have enjoyed his black-tie moment in front of a live crowd, the virtual celebration didn't dim the honor. "The marvelous thing about Oklahoma is how the community welcomed my wife, Susan, and me from the moment we arrived," he says. "And this is really the cherry on top of the icing on the cake."
He and Susan watched the induction with a small group of friends, all masked. When the ceremony wrapped up, they toasted the good fortune that brought them to the state almost 15 years before.
"Len Cason told me OMRF was the place for me," says Prescott.
How right he was.
Illustration by Michael Byers (@michaelbyers @levycreative)
—
Read more from OMRF's 2020 Annual Report
A Year of Challenges
New Hope for Treating Vision Loss
A Homecoming of Sorts
An Anti-Aging Pill?
Old Drug, New Tricks
From Bedside to Bench
Healing Broken Hearts
How 2020 Changed Science