Sarcoidosis Research Unit
Are you living with sarcoidosis?
Scientists at the Oklahoma Medical Research Foundation are unraveling this medical mystery.
You can help. Join our study.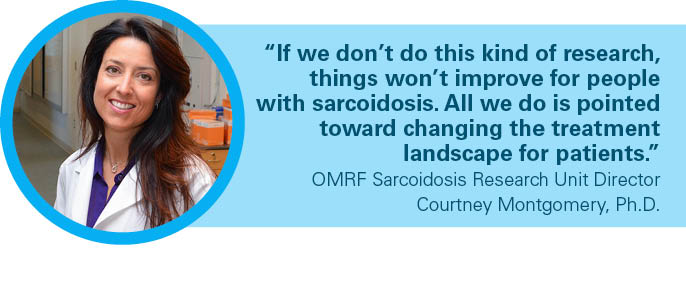 Oklahoma Medical Research Foundation scientist Courtney Montgomery, Ph.D., leads a team of researchers, physicians and nurses dedicated to understanding the risk factors for sarcoidosis so that medical professionals can better diagnose, treat and someday even prevent this devastating disease.
Join our study
Scientists at OMRF can most effectively study sarcoidosis with the help of people like you who have been diagnosed with the condition.
If you decide to join us in this project, your participation includes undergoing a screening process, completing questionnaires, and once enrolled in the study, donating a small blood sample. Your information will be kept completely confidential, and you'll receive $20 for your time and effort.
We study sarcoidosis in a real-world setting to better understand how it affects people like you.
Start today
Contact us to start the enrollment process today and help us unravel the mysteries of this challenging disease. To participate or receive more information about the Sarcoidosis Research Unit, fill out this form.
Contact us
Call: 405-271-2504
Text: 405-795-8348
Email: sru@omrf.org