Before lupus research,
Dr. Joan Merrill

tried her hand at stage and screen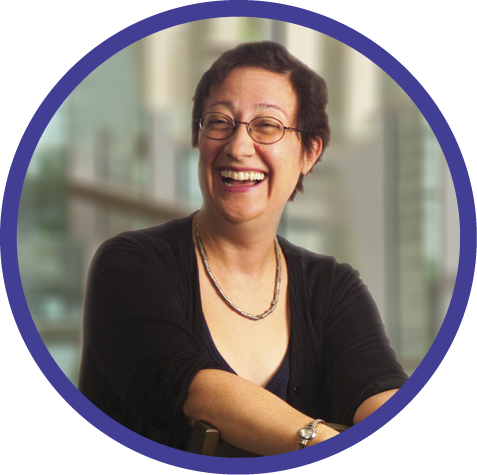 When the Lupus Foundation of America named OMRF's Dr. Joan Merrill as the recipient of its highest honor, the Evelyn V. Hess Award, the president of the LFA saluted Merrill's "unwavering commitment to improving approaches to lupus research and clinical trials." He recognized her dedication to science and the role she has played in bringing safer and more effective treatments to patients with lupus worldwide.
Nowhere, though, did he mention her role in the film "The Super Cops."
At Vassar College, Merrill majored in drama. After graduation, she took the path trodden by many a youngster with a degree in theater: to Broadway. Or, more accurately, off-Broadway.
"I had parts in a number of plays in Greenwich Village and [Manhattan's] Upper West Side," she remembers. One particular high point came when legendary playwright Tennessee Williams paid a visit to a production of his "Battle of Angels," which Merrill was working on.
Merrill eventually secured membership in the actors' union, which led to bit parts in several movies. She still laughs about her non-speaking role in a now-forgotten 1974 crime drama. "I was supposed to be a go-go dancer wearing a little outfit with fringes on it, dancing up on a stage in a bar," she says. "The super cops walked past me, and one of them pointed at me and said, 'That one has a Ph.D.'"
The line might have been intended as snarky, but it turned out to be prophetic. At 29, after completing some basic science classes that hadn't seemed necessary for the career she mapped in acting, Merrill applied to medical school.
She soon received a call from Cornell University Medical College. "They wanted to interview me before admission because they weren't sure how I was going to cope with school at my 'old age.' I said, 'Not gracefully, but I will do it,'" Merrill remembers.
The answer satisfied the admissions committee, and in her final year at Cornell, a rotation at the National Institutes of Health led Merrill to specialize in rheumatology. In particular, she focused on lupus, an autoimmune disease that primarily affects women and that can present with a confusing array of symptoms.
She accepted a faculty position at Columbia University and split her time between the laboratory and treating patients. But when OMRF offered Merrill the chance to build her own specialized clinical research program in 2001, she jumped at the new opportunity.
"We were a calm little clinic before Dr. Merrill," says Fredonna Carthen, who manages clinical trials at the foundation's Rheumatology Research Center of Excellence. "She was an explosion. She's from New York, she's loud, she's full of energy." Merrill also realigned the clinic, which had previously targeted cardiovascular studies, to specialize in lupus care.
For people with lupus like Phyllis Perry, Merrill's care proved transformative. When the Lawton resident came to OMRF, she says, "I was really, really sick, and I was hurting all over." Merrill identified one particular drug that, it turns out, was causing devastating side effects. She stopped the treatment immediately. "Dr. Merrill saved my life," says Perry.
That approach – fewer drugs rather than more – has become a hallmark of Merrill's. In addition to patient care, she's used it as the backbone of designing clinical trials for new lupus drugs, a specialty for which she's become world-renowned. Recently, she's also spearheaded efforts to recruit more underrepresented patients to trials and to restructure trials to increase collaboration and communication between patients and caregivers.
The same openness that led Merrill to acting marked her interactions with patients. Often, she'd build rapport by sharing her own experiences with illness, including a bout with breast cancer. "I could tell them, 'It's horrible, but it gets better,'" Merrill says.
With patient care now in the hands of a junior OMRF colleague she describes as "fabulous," Merrill is excited to collaborate with researchers and pharmaceutical companies to develop new and more effective therapies for lupus. In at least one way, she says, the work hearkens back to her days as an aspiring actor.
"It's like an episode of your favorite mystery show," the physician-scientist says. "And we're detectives picking up clues."
—
Read more from the Summer/Fall 2022 issue of Findings
Taking Pride 
Voices: Dr. Padmaja Mehta-D'souza 
Mouse Doctor
Ask Dr. McEver: Coffee Conundrum 
Good Chemistry
Legacy of Giving 
Predicting MS Relapses 
The Puzzle of Covid and Autoimmunity
Changing the Complexion of Science