Genes & Human Disease Research Program
What We Do
The human genome is composed of more than 3 billion nucleotides that essentially functions as a molecular hard drive that stores all the information needed for how the cells in our body function. Of the 3 billion nucleotides, roughly 2% encodes for the different proteins that perform the various cellular functions needed for life. The remaining 98% of the human genome regulates what, when, and how each gene is expressed during the life of a cell. The random inheritance of different variations of the DNA sequences of encoded genes and non-protein coding regulatory regions from a person's parents provides, in many ways, the characteristics that make each individual unique. Unfortunately, inheritance of genetic variations also increases a person's risk of developing different human diseases.
The Genes and Human Disease Research Program focuses on identifying and understanding how genetic variations cause human diseases. While our investigators share this focus, each has their own specific interests including determining the function of non-coding RNA, and understanding how the complex 3D organization of the genome, disease-associated non-coding variants, and the epigenome regulate gene expression in health and disease. In addition, our faculty are developing and applying new machine and deep-learning approaches to identify new disease-associated genetic variations and define disease-associated gene networks.
The Genes and Human Disease Research Program works closely with the OMRF CLIA certified Clinical Genomics Center, the OMRF CAP-accredited Biorepository and the OMRF Quantitative Analysis Core. These Cores were established using funding from various grants through the NIH Institutional Development Award (IDeA) program, and continue to be supported by the OMRF. Our investigators benefit from the state-of-the-art sequencing technologies, sample procurement, processing and storage, and data analysis expertise afforded by these Cores.
Our Scientists
Jonathan D. Wren, Ph.D.
Associate Member
David Forsthoefel, Ph.D.
Assistant Member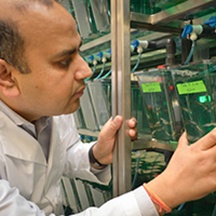 Gaurav Varshney, Ph.D.
Assistant Member
Our Publications
2019
Acevedo-Canabal A, Colón-Cruz L, Rodriguez-Morales R, Varshney GK, Burgess S, González-Sepúlveda L, Yudowski G, Behra M. Altered Swimming Behaviors in Zebrafish Larvae Lacking Cannabinoid Receptor 2. Cannabis Cannabinoid Res 4:88-101, 2019 June, PMID: 31236475, PMCID: PMC6590727
Ahn B, Ranjit R, Premkumar P, Pharaoh G, Piekarz KM, Matsuzaki S, Claflin DR, Riddle K, Judge J, Bhaskaran S, Satara Natarajan K, Barboza E, Wronowski B, Kinter M, Humphries KM, Griffin TM, Freeman WM, Richardson A, Brooks SV, Van Remmen H. Mitochondrial oxidative stress impairs contractile function but paradoxically increases muscle mass via fibre branching. J Cachexia Sarcopenia Muscle 10:411-428, 2019 April, PMID: 30706998, PMCID: PMC6463475
Bagavant H, Dunkleberger ML, Wolska N, Sroka M, Rasmussen A, Adrianto I, Montgomery C, Sivils K, Guthridge JM, James JA, Merrill JT, Deshmukh US. Antibodies to periodontogenic bacteria are associated with higher disease activity in lupus patients. Clin Exp Rheumatol 37:106-111, 2019 January, PMID: 29998833, PMCID: PMC6309750
Chen Y, Adrianto I, Ianuzzi MC, Garman L, Montgomery CG, Rybicki BA, Levin AM, Li J. Extended methods for gene-environment-wide interaction scans in studies of admixed individuals with varying degrees of relationships. Genet Epidemiol, 2019 February, PMID: 30793815, PMCID: PMC6648658
Georgescu C, Corbin JM, Thibivilliers S, Webb ZD, Zhao YD, Koster J, Fung KM, Asch AS, Wren JD, Ruiz-Echevarría MJ. A TMEFF2-regulated cell cycle derived gene signature is prognostic of recurrence risk in prostate cancer. BMC Cancer 19:423, 2019 May, PMID: 31060542, PMCID: PMC6503380
Harris VM, Koelsch KA, Kurien BT, Harley ITW, Wren JD, Harley JB, Scofield RH. Characterization of cxorf21 Provides Molecular Insight Into Female-Bias Immune Response in SLE Pathogenesis. Front Immunol 10:2160, 2019 October, PMID: 31695690, PMCID: PMC6816314
James JA, Chen H, Young KA, Bemis EA, Seifert J, Bourn RL, Deane KD, Demoruelle MK, Feser M, O'Dell JR, Weisman MH, Keating RM, Gaffney PM, Kelly JA, Langefeld CD, Harley JB, Robinson W, Hafler DA, O'Connor KC, Buckner J, Guthridge JM, Norris JM, Holers VM. Latent autoimmunity across disease-specific boundaries in at-risk first-degree relatives of SLE and RA patients. EBioMedicine, 2019 April, PMID: 30952617, PMCID: PMC6491794
Jog NR, Young KA, Munroe ME, Harmon MT, Guthridge JM, Kelly JA, Kamen DL, Gilkeson GS, Weisman MH, Karp DR, Gaffney PM, Harley JB, Wallace DJ, Norris JM, James JA. Association of Epstein-Barr virus serological reactivation with transitioning to systemic lupus erythematosus in at-risk individuals. Ann Rheum Dis, 2019 June, PMID: 31217170, PMCID: PMC6692217
Kinney N, Titus-Glover K, Wren JD, Varghese RT, Michalak P, Liao H, Anandakrishnan R, Pulenthiran A, Kang L, Garner HR. CAGm: a repository of germline microsatellite variations in the 1000 genomes project. Nucleic Acids Res 47:D39-D45, 2019 January, PMID: 30329086, PMCID: PMC6323891
Kiss T, Giles CB, Tarantini S, Yabluchanskiy A, Balasubramanian P, Gautam T, Csipo T, Nyúl-Tóth Á, Lipecz A, Szabo C, Farkas E, Wren JD, Csiszar A, Ungvari Z. Nicotinamide mononucleotide (NMN) supplementation promotes anti-aging miRNA expression profile in the aorta of aged mice, predicting epigenetic rejuvenation and anti-atherogenic effects. Geroscience, 2019 August, PMID: 31463647, PMCID: PMC6815288
Kottyan LC, Maddox A, Braxton JR, Stucke EM, Mukkada V, Putnam PE, Abonia JP, Chehade M, Wood RA, Pesek RD, Vickery BP, Furuta GT, Dawson P, Sampson HA, Martin LJ, Kelly JA, Kimberly RP, Sivils K, Gaffney PM, Kaufman K, Harley JB, Rothenberg ME. Genetic variants at the 16p13 locus confer risk for eosinophilic esophagitis. Genes Immun 20:281-292, 2019 April, PMID: 29904099, PMCID: PMC6286696
Liu K, Petree C, Requena T, Varshney P, Varshney GK. Expanding the CRISPR Toolbox in Zebrafish for Studying Development and Disease Front Cell Dev Biol:7:13, 2019 Mar, PMID: 30886848, PMCID: PMC6409501
Mahamud MR, Geng X, Ho YC, Cha B, Kim Y, Ma J, Chen L, Myers G, Camper S, Mustacich D, Witte M, Choi D, Hong YK, Chen H, Varshney G, Engel JD, Wang S, Kim TH, Lim KC, Srinivasan RS. GATA2 controls lymphatic endothelial cell junctional integrity and lymphovenous valve morphogenesis through miR-126. Development, 2019 October, PMID: 31582413
Miller BF, Pharaoh GA, Hamilton KL, Peelor FF, Kirkland JL, Freeman WM, Mann SN, Kinter M, Price JC, Stout MB. Short-term calorie restriction and 17α-estradiol administration elicit divergent effects on proteostatic processes and protein content in metabolically active tissues. J Gerontol A Biol Sci Med Sci, 2019 May, PMID: 31074767
Perz AI, Giles CB, Brown CA, Porter H, Roopnarinesingh X, Wren JD. MNEMONIC: MetageNomic Experiment Mining to create an OTU Network of Inhabitant Correlations. BMC Bioinformatics 20:96, 2019 March, PMID: 30871469, PMCID: PMC6419333
Qian L, Bajana S, Georgescu C, Peng V, Wang HC, Adrianto I, Colonna M, Alberola-Ila J, Wren JD, Sun XH. Suppression of ILC2 differentiation from committed T cell precursors by E protein transcription factors. J Exp Med 216:884-899, 2019 April, PMID: 30898894, PMCID: PMC6446881
Rasmussen A, Stone DU, Kaufman CE, Hefner KS, Fram NR, Siatkowski RL, Huang AJW, Chodosh J, Rasmussen PT, Fife DA, Pezant N, Grundahl K, Radfar L, Lewis DM, Weisman MH, Venuturupalli S, Wallace DJ, Rhodus NL, Brennan MT, Montgomery CG, Lessard CJ, Scofield RH, Sivils KL. Reproducibility of Ocular Surface Staining in the Assessment of Sjögren Syndrome-Related Keratoconjunctivitis Sicca: Implications on Disease Classification. ACR Open Rheumatol 1:292-302, 2019 July, PMID: 31453437, PMCID: PMC6710016
Ratliff ML, Garton J, Garman L, Barron MD, Georgescu C, White KA, Chakravarty E, Wren JD, Montgomery CG, James JA, Webb CF. ARID3a gene profiles are strongly associated with human interferon alpha production. J Autoimmun 96:158-167, 2019 January, PMID: 30297159, PMCID: PMC6497177
Scofield RH, Sharma R, Pezant N, Kelly JA, Radfar L, Lewis DM, Kaufman CE, Cioli S, Harris J, Grundahl K, Rhodus NL, Wallace DJ, Weisman MH, Venuturupalli S, Brennan MT, Koelsch KA, Lessard CJ, Montgomery CG, Sivils KL, Rasmussen A. American Indians Have A Higher Risk Of Sjögren's Syndrome And More Disease Activity Than Caucasians And African-Americans. Arthritis Care Res (Hoboken), 2019 June, PMID: 31199565
Shah HB, Smith K, Wren JD, Webb CF, Ballard JD, Bourn RL, James JA, Lang ML. Insights From Analysis of Human Antigen-Specific Memory B Cell Repertoires. Front Immunol 9:3064, 2019 January, PMID: 30697210, PMCID: PMC6340933
Sharma R, Chaudhari KS, Kurien BT, Grundahl K, Radfar L, Lewis DM, Lessard CJ, Li H, Rasmussen A, Sivils KL, Scofield RH. Sjögren's Syndrome without focal lymphocytic infiltration of the salivary glands. J Rheumatol, 2019 May, PMID: 31092717
Towner RA, Smith N, Saunders D, Brown CA, Cai X, Ziegler J, Mallory S, Dozmorov MG, Coutinho De Souza P, Wiley G, Kim K, Kang S, Kong DS, Kim YT, Fung KM, Wren JD, Battiste J. OKN-007 Increases temozolomide (TMZ) Sensitivity and Suppresses TMZ-Resistant Glioblastoma (GBM) Tumor Growth. Transl Oncol 12:320-335, 2019 February, PMID: 30468988, PMCID: PMC6251232
Unnikrishnan A, Freeman WM, Jackson J, Wren JD, Porter H, Richardson A. The role of DNA methylation in epigenetics of aging. Pharmacol Ther 195:172-185, 2019 March, PMID: 30419258, PMCID: PMC6397707
Valcarcel-Ares MN, Tucsek Z, Kiss T, Giles CB, Tarantini S, Yabluchanskiy A, Balasubramanian P, Gautam T, Galvan V, Ballabh P, Richardson A, Freeman WM, Wren JD, Deak F, Ungvari Z, Csiszar A. Obesity in Aging Exacerbates Neuroinflammation, Dysregulating Synaptic Function-Related Genes and Altering Eicosanoid Synthesis in the Mouse Hippocampus: Potential Role in Impaired Synaptic Plasticity and Cognitive Decline. J Gerontol A Biol Sci Med Sci 74:290-298, 2019 February, PMID: 29893815, PMCID: PMC6376091
Wood AC, Wren JD, Allison DB. The Need for Greater Rigor in Childhood Nutrition and Obesity Research. JAMA Pediatr, 2019 February, PMID: 30801651
Wren JD, Doerkson RJ, Toby IT, Nanduri B, Homayouni R, Manda P, Thakkar S. Proceedings of the 2018 MidSouth Computational Biology and Bioinformatics Society (MCBIOS) conference. BMC Bioinformatics 20:95, 2019 March, PMID: 30871470, PMCID: PMC6419330
Wren JD, Valencia A, Kelso J. Reviewer-coerced citation: Case report, update on journal policy, and suggestions for future prevention. Bioinformatics, 2019 January, PMID: 30698640, PMCID: PMC6748764
Ziegler J, Zalles M, Smith N, Saunders D, Lerner M, Fung KM, Patel M, Wren JD, Lupu F, Battiste J, Towner RA. Targeting ELTD1, an angiogenesis marker for glioblastoma (GBM), also affects VEGFR2: molecular-targeted MRI assessment. Am J Nucl Med Mol Imaging 9:93-109, 2019 February, PMID: 30911439, PMCID: PMC6420708
2018
Buckley DA, Jennings EM, Burke NN, Roche M, McInerney V, Wren JD, Finn DP, McHugh PC. Erratum to: The Development of Translational Biomarkers as a Tool for Improving the Understanding, Diagnosis and Treatment of Chronic Neuropathic Pain. Mol Neurobiol 55:2431, 2018 March, PMID: 28669124
Buckley DA, Jennings EM, Burke NN, Roche M, McInerney V, Wren JD, Finn DP, McHugh PC. The Development of Translational Biomarkers as a Tool for Improving the Understanding, Diagnosis and Treatment of Chronic Neuropathic Pain. Mol Neurobiol 55:2420-2430, 2018 March, PMID: 28361271, PMCID: PMC5840239
Celada LJ, Kropski JA, Herazo-Maya JD, Luo W, Creecy A, Abad AT, Chioma OS, Lee G, Hassell NE, Shaginurova GI, Wang Y, Johnson JE, Kerrigan A, Mason WR, Baughman RP, Ayers GD, Bernard GR, Culver DA, Montgomery CG, Maher TM, Molyneaux PL, Noth I, Mutsaers SE, Prele CM, Peebles RS Jr, Newcomb DC, Kaminski N, Blackwell TS, Van Kaer L, Drake WP. PD-1 up-regulation on CD4+ T cells promotes pulmonary fibrosis through STAT3-mediated IL-17A and TGF-β1 production. Sci Transl Med 10, 2018 September, PMID: 30257954, PMCID: PMC6263177
Deepa SS, Pharaoh G, Kinter M, Diaz V, Fok WC, Riddle K, Pulliam D, Hill S, Fischer KE, Soto V, Georgescu C, Wren JD, Viscomi C, Richardson A, Van Remmen H. Lifelong reduction in complex IV induces tissue-specific metabolic effects but does not reduce lifespan or healthspan in mice. Aging Cell:e12769, 2018 April, PMID: 29696791, PMCID: PMC6052393
Fields E, Wren JD, Georgescu C, Daum JR, Gorbsky GJ. Predictive bioinformatics identifies novel regulators of proliferation in a cancer stem cell model. Stem Cell Res 26:1-7, 2018 January, PMID: 29179130, PMCID: PMC5899939
Forsthoefel DJ, Ross KG, Newmark PA, Zayas RM. Fixation, Processing, and Immunofluorescent Labeling of Whole Mount Planarians. Methods Mol Biol 1774:353-366, 2018 January, PMID: 29916163
Fu Y, Tessneer KL, Li C, Gaffney PM. From association to mechanism in complex disease genetics: the role of the 3D genome. Arthritis Res Ther 20:216, 2018 September, PMID: 30268153, PMCID: PMC6162955
Gensterblum E, Renauer P, Coit P, Strickland FM, Kilian NC, Miller S, Ognenovski M, Wren JD, Tsou PS, Lewis EE, Maksimowicz-McKinnon K, McCune WJ, Richardson BC, Sawalha AH. CD4+CD28+KIR+CD11ahi T cells correlate with disease activity and are characterized by a pro-inflammatory epigenetic and transcriptional profile in lupus patients. J Autoimmun 86:19-28, 2018 January, PMID: 29066026, PMCID: PMC5821123
Georgescu C, Wren JD. Algorithmic identification of discrepancies between published ratios and their reported confidence intervals and P-values. Bioinformatics 34:1758-1766, 2018 May, PMID: 29309530, PMCID: PMC5946902
Harris VM, Sharma R, Cavett J, Kurien BT, Liu K, Koelsch KA, Rasmussen A, Radfar L, Lewis D, Stone DU, Kaufman CE, Li S, Segal B, Wallace DJ, Weisman MH, Venuturupalli S, Kelly JA, Alarcon-Riquelme ME, Pons-Estel B, Jonsson R, Lu X, Gottenberg JE, Anaya JM, Cunninghame-Graham DS, Huang AJW, Brennan MT, Hughes P, Alevizos I, Miceli-Richard C, Keystone EC, Bykerk VP, Hirschfield G, Xie G, Siminovitch KA, Ng WF, Nordmark G, Bucher SM, Eriksson P, Omdal R, Rhodus NL, Rischmueller M, Rohrer M, Wahren-Herlenius M, Witte T, Mariette X, Lessard CJ, Harley JB, Sivils KL, Scofield RH. Corrigendum to "Klinefelter's syndrome (47,XXY) is in excess among men with Sjögren's syndrome" [Clin. Immunol. 168 (2016) 25-29]. Clin Immunol 187:137-138, 2018 February, PMID: 29195081
Hopiavuori BR, Deák F, Wilkerson JL, Brush RS, Rocha-Hopiavuori NA, Hopiavuori AR, Ozan KG, Sullivan MT, Wren JD, Georgescu C, Szweda L, Awasthi V, Towner R, Sherry DM, Anderson RE, Agbaga MP. Homozygous Expression of Mutant ELOVL4 Leads to Seizures and Death in a Novel Animal Model of Very Long-Chain Fatty Acid Deficiency. Mol Neurobiol 55:1795-1813, 2018 February, PMID: 29168048, PMCID: PMC5820379
Huang C, Fu C, Wren JD, Wang X, Zhang F, Zhang YH, Connel SA, Chen T, Zhang XA. Tetraspanin-enriched microdomains regulate digitation junctions. Cell Mol Life Sci 75:3423-3439, 2018 September, PMID: 29589089, PMCID: PMC6615572
Huang C, Fu C, Wren JD, Wang X, Zhang F, Zhang YH, Connell SA, Chen T, Zhang XA. Correction to: Tetraspanin-enriched microdomains regulate digitation junctions. Cell Mol Life Sci 75:4077, 2018 November, PMID: 30196315
Koelsch KA, Cavett J, Smith K, Moore JS, Lehoux SD, Jia N, Mather T, Quadri SMS, Rasmussen A, Kaufman CE, Lewis DM, Radfar L, Scordino TA, Lessard CJ, Kurien BT, Cummings RD, James JA, Sivils KL, Farris AD, Scofield RH. Evidence of Alternative Modes of B Cell Activation Involving Acquired Fab Regions of N-Glycosylation in Antibody-Secreting Cells Infiltrating the Labial Salivary Glands of Patients With Sjögren's Syndrome. Arthritis Rheumatol 70:1102-1113, 2018 July, PMID: 29457375, PMCID: PMC6019603
Kondo Y, Fu J, Wang H, Hoover C, McDaniel JM, Steet R, Patra D, Song J, Pollard L, Cathey S, Yago T, Wiley G, Macwana S, Guthridge J, McGee S, Li S, Griffin C, Furukawa K, James JA, Ruan C, McEver RP, Wierenga KJ, Gaffney PM, Xia L. Site-1 protease deficiency causes human skeletal dysplasia due to defective inter-organelle protein trafficking. JCI Insight 3, 2018 July, PMID: 30046013, PMCID: PMC6124414
Le TT, Savitz J, Suzuki H, Misaki M, Teague TK, White BC, Marino JH, Wiley G, Gaffney PM, Drevets WC, McKinney BA, Bodurka J. Identification and replication of RNA-Seq gene network modules associated with depression severity. Transl Psychiatry 8:180, 2018 September, PMID: 30185774, PMCID: PMC6125582
Leehan KM, Pezant NP, Rasmussen A, Grundahl K, Moore JS, Radfar L, Lewis DM, Stone DU, Lessard CJ, Rhodus NL, Segal BM, Scofield RH, Sivils KL, Montgomery C, Farris AD. Minor salivary gland fibrosis in Sjögren's syndrome is elevated, associated with focus score and not solely a consequence of aging. Clin Exp Rheumatol 36 Suppl 112:80-88, 2018 May, PMID: 29148407, PMCID: PMC5913007
Martínez-Bueno M, Oparina N, Dozmorov MG, Marion MC, Comeau ME, Gilkeson G, Kamen D, Weisman M, Salmon J, McCune JW, Harley JB, Kimberly R, James JA, Merrill J, Montgomery C, Langefeld CD, Alarcón-Riquelme ME. Trans-Ethnic Mapping of BANK1 Identifies Two Independent SLE-Risk Linkage Groups Enriched for Co-Transcriptional Splicing Marks. Int J Mol Sci 19, 2018 August, PMID: 30096841, PMCID: PMC6121630
Patel ZH, Lu X, Miller D, Forney CR, Lee J, Lynch A, Schroeder C, Parks L, Magnusen AF, Chen X, Pujato M, Maddox A, Zoller EE, Namjou B, Brunner HI, Henrickson M, Huggins JL, Williams AH, Ziegler JT, Comeau ME, Marion MC, Glenn SB, Adler A, Shen N, Nath SK, Stevens AM, Freedman BI, Pons-Estel BA, Tsao BP, Jacob CO, Kamen DL, Brown EE, Gilkeson GS, Alarcón GS, Martin J, Reveille JD, Anaya JM, James JA, Sivils KL, Criswell LA, Vilá LM, Petri M, Scofield RH, Kimberly RP, Edberg JC, Ramsey-Goldman R, Bang SY, Lee HS, Bae SC, Boackle SA, Cunninghame Graham D, Vyse TJ, Merrill JT, Niewold TB, Ainsworth HC, Silverman ED, Weisman MH, Wallace DJ, Raj P, Guthridge JM, Gaffney PM, Kelly JA, Alarcón-Riquelme ME, Langefeld CD, Wakeland EK, Kaufman KM, Weirauch MT, Harley JB, Kottyan LC. A plausibly causal functional lupus-associated risk variant in the STAT1-STAT4 locus. Hum Mol Genet 27:2392-2404, 2018 July, PMID: 29912393, PMCID: PMC6005081
Pei W, Xu L, Huang SC, Pettie K, Idol J, Rissone A, Jimenez E, Sinclair JW, Slevin C, Varshney GK, Jones M, Carrington B, Bishop K, Huang H, Sood R, Lin S, Burgess SM. Guided genetic screen to identify genes essential in the regeneration of hair cells and other tissues. NPJ Regen Med 3:11, 2018 June, PMID: 29872546, PMCID: PMC5986822
Pelikan RC, Kelly JA, Fu Y, Lareau CA, Tessneer KL, Wiley GB, Wiley MM, Glenn SB, Harley JB, Guthridge JM, James JA, Aryee MJ, Montgomery C, Gaffney PM. Enhancer histone-QTLs are enriched on autoimmune risk haplotypes and influence gene expression within chromatin networks. Nat Commun 9:2905, 2018 July, PMID: 30046115, PMCID: PMC6060153
Ungvari Z, Tarantini S, Kiss T, Wren JD, Giles CB, Griffin CT, Murfee WL, Pacher P, Csiszar A. Endothelial dysfunction and angiogenesis impairment in the ageing vasculature. Nat Rev Cardiol 15:555-565, 2018 September, PMID: 29795441, PMCID: PMC6612360
Wang CC, Ortiz-González XR, Yum SW, Gill SM, White A, Kelter E, Seaver LH, Lee S, Wiley G, Gaffney PM, Wierenga KJ, Rasband MN. βIV Spectrinopathies Cause Profound Intellectual Disability, Congenital Hypotonia, and Motor Axonal Neuropathy. Am J Hum Genet 102:1158-1168, 2018 June, PMID: 29861105, PMCID: PMC5992132
Wren JD. Algorithmically outsourcing the detection of statistical errors and other problems. EMBO J 37, 2018 June, PMID: 29794111, PMCID: PMC6003655
Loading...
Contact Us
Genes & Human Disease Research Program
Oklahoma Medical Research Foundation
825 N.E. 13th Street
Oklahoma City, OK 73104
Phone: (405) 271-2572
Fax: (405) 271-3045
E-mail: Patrick-Gaffney@omrf.org