Genes & Human Disease Research Program
What We Do
The human genome is composed of more than 3 billion nucleotides that essentially functions as a molecular hard drive that stores all the information needed for how the cells in our body function. Of the 3 billion nucleotides, roughly 2% encodes for the different proteins that perform the various cellular functions needed for life. The remaining 98% of the human genome regulates what, when, and how each gene is expressed during the life of a cell. The random inheritance of different variations of the DNA sequences of encoded genes and non-protein coding regulatory regions from a person's parents provides, in many ways, the characteristics that make each individual unique. Unfortunately, inheritance of genetic variations also increases a person's risk of developing different human diseases.
The Genes and Human Disease Research Program focuses on identifying and understanding how genetic variations cause human diseases. While our investigators share this focus, each has their own specific interests including determining the function of non-coding RNA, and understanding how the complex 3D organization of the genome, disease-associated non-coding variants, and the epigenome regulate gene expression in health and disease. In addition, our faculty are developing and applying new machine and deep-learning approaches to identify new disease-associated genetic variations and define disease-associated gene networks.
The Genes and Human Disease Research Program works closely with the OMRF CLIA certified Clinical Genomics Center, the OMRF CAP-accredited Biorepository and the OMRF Quantitative Analysis Core. These Cores were established using funding from various grants through the NIH Institutional Development Award (IDeA) program, and continue to be supported by the OMRF. Our investigators benefit from the state-of-the-art sequencing technologies, sample procurement, processing and storage, and data analysis expertise afforded by these Cores.
Our Scientists
Jonathan D. Wren, Ph.D.
Associate Member
David Forsthoefel, Ph.D.
Assistant Member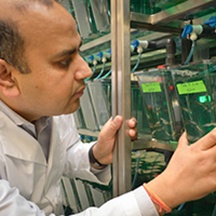 Gaurav Varshney, Ph.D.
Assistant Member
Our Publications
2020
Chucair-Elliott AJ, Ocañas SR, Stanford DR, Ansere VA, Buettner KB, Porter H, Eliason NL, Reid JJ, Sharpe AL, Stout MB, Beckstead MJ, Miller BF, Richardson A, Freeman WM. Inducible cell-specific mouse models for paired epigenetic and transcriptomic studies of microglia and astroglia. Commun Biol 3:693, 2020 November, PMID: 33214681
Raj P, Song R, Zhu H, Riediger L, Jun DJ, Liang C, Arana C, Zhang B, Gao Y, Wakeland BE, Dozmorov I, Zhou J, Kelly JA, Lauwerys BR, Guthridge JM, Olsen NJ, Nath SK, Pasare C, van Oers N, Gilkeson G, Tsao BP, Gaffney PM, Gregersen PK, James JA, Zuo X, Karp DR, Li QZ, Wakeland EK. Deep sequencing reveals a DAP1 regulatory haplotype that potentiates autoimmunity in systemic lupus erythematosus. Genome Biol 21:281, 2020 November, PMID: 33213505, PMCID: PMC7677828
Chai G, Webb A, Li C, Antaki D, Lee S, Breuss MW, Lang N, Stanley V, Anzenberg P, Yang X, Marshall T, Gaffney P, Wierenga KJ, Chung BH, Tsang MH, Pais LS, Lovgren AK, VanNoy GE, Rehm HL, Mirzaa G, Leon E, Diaz J, Neumann A, Kalverda AP, Manfield IW, Parry DA, Logan CV, Johnson CA, Bonthron DT, Valleley EMA, Issa MY, Abdel-Ghafar SF, Abdel-Hamid MS, Jennings P, Zaki MS, Sheridan E, Gleeson JG. Mutations in Spliceosomal Genes PPIL1 and PRP17 Cause Neurodegenerative Pontocerebellar Hypoplasia with Microcephaly. Neuron, 2020 November, PMID: 33220177
Gurley JM, Gmyrek GB, McClellan ME, Hargis EA, Hauck SM, Dozmorov MG, Wren JD, Carr DJJ, Elliott MH. Neuroretinal-Derived Caveolin-1 Promotes Endotoxin-Induced Inflammation in the Murine Retina. Invest Ophthalmol Vis Sci 61:19, 2020 October, PMID: 33079993, PMCID: PMC7585394
Wolfstetter G, Pfeifer K, Backman M, Masudi TA, Mendoza-García P, Chen S, Sonnenberg H, Sukumar SK, Uçkun E, Varshney GK, Uv A, Palmer RH. Identification of the Wallenda JNKKK as an Alk suppressor reveals increased competitiveness of Alk-expressing cells. Sci Rep 10:14954, 2020 September, PMID: 32917927, PMCID: PMC7486895
Rao G, Dwivedi SKD, Zhang Y, Dey A, Shameer K, Karthik R, Srikantan S, Hossen MN, Wren JD, Madesh M, Dudley JT, Bhattacharya R, Mukherjee P. MicroRNA-195 controls MICU1 expression and tumor growth in ovarian cancer. EMBO Rep:e48483, 2020 August, PMID: 32851774, PMCID: PMC7534609
Peng V, Georgescu C, Bakowska A, Pankow A, Qian L, Wren JD, Sun XH. E proteins orchestrate dynamic transcriptional cascades implicated in the suppression of the differentiation of group 2 innate lymphoid cells. J Biol Chem, 2020 August, PMID: 32817168, PMCID: PMC7606671
Pharaoh G, Brown JL, Sataranatarajan K, Kneis P, Bian J, Ranjit R, Hadad N, Georgescu C, Rabinovitch P, Ran Q, Wren JD, Freeman W, Kinter M, Richardson A, Van Remmen H. Targeting cPLA2 derived lipid hydroperoxides as a potential intervention for sarcopenia. Sci Rep 10:13968, 2020 August, PMID: 32811851, PMCID: PMC7435184
Le TT, Savitz J, Suzuki H, Misaki M, Teague TK, White BC, Marino JH, Wiley G, Gaffney PM, Drevets WC, McKinney BA, Bodurka J. Correction: Identification and replication of RNA-Seq gene network modules associated with depression severity. Transl Psychiatry 10:282, 2020 August, PMID: 32788574, PMCID: PMC7423928
Ichino N, Serres MR, Urban RM, Urban MD, Treichel AJ, Schaefbauer KJ, Greif LE, Varshney GK, Skuster KJ, McNulty MS, Daby CL, Wang Y, Liao HK, El-Rass S, Ding Y, Liu W, Anderson JL, Wishman MD, Sabharwal A, Schimmenti LA, Sivasubbu S, Balciunas D, Hammerschmidt M, Farber SA, Wen XY, Xu X, McGrail M, Essner JJ, Burgess SM, Clark KJ, Ekker SC. Building the vertebrate codex using the gene breaking protein trap library. Elife 9, 2020 August, PMID: 32779569, PMCID: PMC7486118
Wolff CA, Lawrence MM, Porter H, Zhang Q, Reid JJ, Laurin JL, Musci RV, Linden MA, Peelor FF 3rd, Wren JD, Creery JS, Cutler KJ, Carson RH, Price JC, Hamilton KL, Miller BF. Sex differences in changes of protein synthesis with rapamycin treatment are minimized when metformin is added to rapamycin. Geroscience, 2020 August, PMID: 32761290
Howell RD, Dominguez-Lopez S, Ocañas SR, Freeman WM, Beckstead MJ. Female mice are resilient to age-related decline of substantia nigra dopamine neuron firing parameters. Neurobiol Aging 95:195-204, 2020 August, PMID: 32846275, PMCID: PMC7606778
Arabnejad M, Montgomery CG, Gaffney PM, McKinney BA. Nearest-Neighbor Projected Distance Regression for Epistasis Detection in GWAS With Population Structure Correction. Front Genet 11:784, 2020 July, PMID: 32774345, PMCID: PMC7387719
Garman L, Montgomery CG, Rivera NV. Recent advances in sarcoidosis genomics: epigenetics, gene expression, and gene by environment (G × E) interaction studies. Curr Opin Pulm Med, 2020 July, PMID: 32701681
Rodríguez-Morales R, Vélez-Negrón V, Torrado-Tapias A, Varshney G, Behra M. Expression patterns of activating transcription factor 5 (atf5a and atf5b) in zebrafish. Gene Expr Patterns:119126, 2020 July, PMID: 32663618
Ansere VA, Freeman WM. Exercising your mind. Science 369:144-145, 2020 July, PMID: 32646988
Joachims ML, Leehan KM, Dozmorov MG, Georgescu C, Pan Z, Lawrence C, Marlin MC, Macwana S, Rasmussen A, Radfar L, Lewis DM, Stone DU, Grundahl K, Scofield RH, Lessard CJ, Wren JD, Thompson LF, Guthridge JM, Sivils KL, Moore JS, Farris AD. Sjögren's Syndrome Minor Salivary Gland CD4 Memory T Cells Associate with Glandular Disease Features and have a Germinal Center T Follicular Helper Transcriptional Profile. J Clin Med 9, 2020 July, PMID: 32650575, PMCID: PMC7408878
Wren JD, Bai Y, Qin ZS, Yan D, Homayouni R. Proceedings of the 2019 MidSouth Computational Biology and Bioinformatics Society (MCBIOS) Conference. BMC Bioinformatics 21:254, 2020 July, PMID: 32631224, PMCID: PMC7336605
Banote RK, Chebli J, Şatır TM, Varshney GK, Camacho R, Ledin J, Burgess SM, Abramsson A, Zetterberg H. Amyloid precursor protein-b facilitates cell adhesion during early development in zebrafish. Sci Rep 10:10127, 2020 June, PMID: 32576936, PMCID: PMC7311384
Agasing AM, Wu Q, Khatri B, Borisow N, Ruprecht K, Brandt AU, Gawde S, Kumar G, Quinn JL, Ko RM, Mao-Draayer Y, Lessard CJ, Paul F, Axtell RC. Transcriptomics and proteomics reveal a cooperation between interferon and T-helper 17 cells in neuromyelitis optica. Nat Commun 11:2856, 2020 June, PMID: 32503977, PMCID: PMC7275086
Sui Y, Li X, Oh S, Zhang B, Freeman WM, Shin S, Janknecht R. Opposite Roles of the JMJD1A Interaction Partners MDFI and MDFIC in Colorectal Cancer. Sci Rep 10:8710, 2020 May, PMID: 32457453, PMCID: PMC7250871
Sataranatarajan K, Pharaoh G, Brown JL, Ranjit R, Piekarz KM, Street K, Wren JD, Georgescu C, Kinter C, Kinter M, Freeman WM, Richardson A, Van Remmen H. Molecular changes in transcription and metabolic pathways underlying muscle atrophy in the CuZnSOD null mouse model of sarcopenia. Geroscience, 2020 May, PMID: 32394347, PMCID: PMC7394980
Ray-Jones H, Duffus K, McGovern A, Martin P, Shi C, Hankinson J, Gough O, Yarwood A, Morris AP, Adamson A, Taylor C, Ding J, Gaddi VP, Fu Y, Gaffney P, Orozco G, Warren RB, Eyre S. Mapping DNA interaction landscapes in psoriasis susceptibility loci highlights KLF4 as a target gene in 9q31. BMC Biol 18:47, 2020 May, PMID: 32366252, PMCID: PMC7199343
Verstappen GM, Ice JA, Bootsma H, Pringle S, Haacke EA, de Lange K, van der Vries GB, Hickey P, Vissink A, Spijkervet FKL, Lessard CJ, Kroese FGM. Gene expression profiling of epithelium-associated FcRL4 B cells in primary Sjögren's syndrome reveals a pathogenic signature. J Autoimmun 109:102439, 2020 May, PMID: 32201227
Sapkota H, Wren JD, Gorbsky GJ. Chondrosarcoma-associated gene 1 (CSAG1) maintains the integrity of the mitotic centrosome in cells with defective p53. J Cell Sci, 2020 April, PMID: 32295846, PMCID: PMC7272337
Forsthoefel DJ, Cejda NI, Khan UW, Newmark PA. Cell-type diversity and regionalized gene expression in the planarian intestine. Elife 9, 2020 April, PMID: 32240093, PMCID: PMC7117911
Medley SC, Rathnakar BH, Georgescu C, Wren JD, Olson LE. Fibroblast-specific Stat1 deletion enhances the myofibroblast phenotype during tissue repair. Wound Repair Regen, 2020 March, PMID: 32175700, PMCID: PMC7321860
Kiss T, Tarantini S, Csipo T, Balasubramanian P, Nyúl-Tóth Á, Yabluchanskiy A, Wren JD, Garman L, Huffman DM, Csiszar A, Ungvari Z. Circulating anti-geronic factors from heterochonic parabionts promote vascular rejuvenation in aged mice: transcriptional footprint of mitochondrial protection, attenuation of oxidative stress, and rescue of endothelial function by young blood. Geroscience, 2020 March, PMID: 32172434, PMCID: PMC7205954
Garman L, Pezant N, Pastori A, Savoy KA, Li C, Levin AM, Iannuzzi MC, Rybicki BA, Adrianto I, Montgomery CG. Genome-Wide Association Study of Ocular Sarcoidosis Confirms HLA Associations and Implicates Barrier Function and Autoimmunity in African Americans. Ocul Immunol Inflamm:1-6, 2020 March, PMID: 32141793, PMCID: PMC7483204
Petree C, Varshney GK. MultiFRAGing: Rapid and Simultaneous Genotyping of Multiple Alleles in a Single Reaction. Sci Rep 10:3172, 2020 February, PMID: 32081936, PMCID: PMC7035419
Kiss T, Nyúl-Tóth Á, Balasubramanian P, Tarantini S, Ahire C, Yabluchanskiy A, Csipo T, Farkas E, Wren JD, Garman L, Csiszar A, Ungvari Z. Nicotinamide mononucleotide (NMN) supplementation promotes neurovascular rejuvenation in aged mice: transcriptional footprint of SIRT1 activation, mitochondrial protection, anti-inflammatory, and anti-apoptotic effects. Geroscience, 2020 February, PMID: 32056076, PMCID: PMC7206476
Vona B, Doll J, Hofrichter MAH, Haaf T, Varshney GK. Small fish, big prospects: using zebrafish to unravel the mechanisms of hereditary hearing loss. Hear Res:107906, 2020 February, PMID: 32063424, PMCID: PMC7415493
2019
Yao Q, Wang L, Mittal R, Yan D, Richmond MT, Denyer S, Requena T, Liu K, Varshney GK, Lu Z, Liu X. Transcriptomic Analyses of Inner Ear Sensory Epithelia in Zebrafish. Anat Rec (Hoboken), 2019 December, PMID: 31883312
Kowalski MH, Qian H, Hou Z, Rosen JD, Tapia AL, Shan Y, Jain D, Argos M, Arnett DK, Avery C, Barnes KC, Becker LC, Bien SA, Bis JC, Blangero J, Boerwinkle E, Bowden DW, Buyske S, Cai J, Cho MH, Choi SH, Choquet H, Cupples LA, Cushman M, Daya M, de Vries PS, Ellinor PT, Faraday N, Fornage M, Gabriel S, Ganesh SK, Graff M, Gupta N, He J, Heckbert SR, Hidalgo B, Hodonsky CJ, Irvin MR, Johnson AD, Jorgenson E, Kaplan R, Kardia SLR, Kelly TN, Kooperberg C, Lasky-Su JA, Loos RJF, Lubitz SA, Mathias RA, McHugh CP, Montgomery C, Moon JY, Morrison AC, Palmer ND, Pankratz N, Papanicolaou GJ, Peralta JM, Peyser PA, Rich SS, Rotter JI, Silverman EK, Smith JA, Smith NL, Taylor KD, Thornton TA, Tiwari HK, Tracy RP, Wang T, Weiss ST, Weng LC, Wiggins KL, Wilson JG, Yanek LR, Zöllner S, North KE, Auer PL, NHLBI Trans-Omics for Precision Medicine (TOPMed) Consortium., TOPMed Hematology & Hemostasis Working Group., Raffield LM, Reiner AP, Li Y. Use of >100,000 NHLBI Trans-Omics for Precision Medicine (TOPMed) Consortium whole genome sequences improves imputation quality and detection of rare variant associations in admixed African and Hispanic/Latino populations. PLoS Genet 15:e1008500, 2019 December, PMID: 31869403, PMCID: PMC6953885
Zalles M, Smith N, Ziegler J, Saunders D, Remerowski S, Thomas L, Gulej R, Mamedova N, Lerner M, Fung KM, Chung J, Hwang K, Jin J, Wiley G, Brown C, Battiste J, Wren JD, Towner RA. Optimized monoclonal antibody treatment against ELTD1 for GBM in a G55 xenograft mouse model. J Cell Mol Med, 2019 December, PMID: 31863639, PMCID: PMC6991683
Keihani S, Kluever V, Mandad S, Bansal V, Rahman R, Fritsch E, Gomes LC, Gärtner A, Kügler S, Urlaub H, Wren JD, Bonn S, Rizzoli SO, Fornasiero EF. The long noncoding RNA neuroLNC regulates presynaptic activity by interacting with the neurodegeneration-associated protein TDP-43. Sci Adv 5:eaay2670, 2019 December, PMID: 31897430, PMCID: PMC6920028
Pasula S, Tessneer KL, Fu Y, Gopalakrishnan J, Pelikan RC, Kelly JA, Wiley GB, Wiley MM, Gaffney PM. Risk Variants with Opposing Functional Effects Result in Hypomorphic Expression of TNIP1 and Other Genes within a 3D Chromatin Network. Arthritis Rheumatol, 2019 December, PMID: 31804013, PMCID: PMC7188567
Barnett AG, Wren JD. Examination of CIs in health and medical journals from 1976 to 2019: an observational study. BMJ Open 9:e032506, 2019 November, PMID: 31753893, PMCID: PMC6887056
Harris VM, Koelsch KA, Kurien BT, Harley ITW, Wren JD, Harley JB, Scofield RH. Characterization of cxorf21 Provides Molecular Insight Into Female-Bias Immune Response in SLE Pathogenesis. Front Immunol 10:2160, 2019 October, PMID: 31695690, PMCID: PMC6816314
Mahamud MR, Geng X, Ho YC, Cha B, Kim Y, Ma J, Chen L, Myers G, Camper S, Mustacich D, Witte M, Choi D, Hong YK, Chen H, Varshney G, Engel JD, Wang S, Kim TH, Lim KC, Srinivasan RS. GATA2 controls lymphatic endothelial cell junctional integrity and lymphovenous valve morphogenesis through miR-126. Development, 2019 October, PMID: 31582413, PMCID: PMC6857586
Kiss T, Giles CB, Tarantini S, Yabluchanskiy A, Balasubramanian P, Gautam T, Csipo T, Nyúl-Tóth Á, Lipecz A, Szabo C, Farkas E, Wren JD, Csiszar A, Ungvari Z. Nicotinamide mononucleotide (NMN) supplementation promotes anti-aging miRNA expression profile in the aorta of aged mice, predicting epigenetic rejuvenation and anti-atherogenic effects. Geroscience, 2019 August, PMID: 31463647, PMCID: PMC6815288
Rasmussen A, Stone DU, Kaufman CE, Hefner KS, Fram NR, Siatkowski RL, Huang AJW, Chodosh J, Rasmussen PT, Fife DA, Pezant N, Grundahl K, Radfar L, Lewis DM, Weisman MH, Venuturupalli S, Wallace DJ, Rhodus NL, Brennan MT, Montgomery CG, Lessard CJ, Scofield RH, Sivils KL. Reproducibility of Ocular Surface Staining in the Assessment of Sjögren Syndrome-Related Keratoconjunctivitis Sicca: Implications on Disease Classification. ACR Open Rheumatol 1:292-302, 2019 July, PMID: 31453437, PMCID: PMC6710016
Jog NR, Young KA, Munroe ME, Harmon MT, Guthridge JM, Kelly JA, Kamen DL, Gilkeson GS, Weisman MH, Karp DR, Gaffney PM, Harley JB, Wallace DJ, Norris JM, James JA. Association of Epstein-Barr virus serological reactivation with transitioning to systemic lupus erythematosus in at-risk individuals. Ann Rheum Dis, 2019 June, PMID: 31217170, PMCID: PMC6692217
Acevedo-Canabal A, Colón-Cruz L, Rodriguez-Morales R, Varshney GK, Burgess S, González-Sepúlveda L, Yudowski G, Behra M. Altered Swimming Behaviors in Zebrafish Larvae Lacking Cannabinoid Receptor 2. Cannabis Cannabinoid Res 4:88-101, 2019 June, PMID: 31236475, PMCID: PMC6590727
Scofield RH, Sharma R, Pezant N, Kelly JA, Radfar L, Lewis DM, Kaufman CE, Cioli S, Harris J, Grundahl K, Rhodus NL, Wallace DJ, Weisman MH, Venuturupalli S, Brennan MT, Koelsch KA, Lessard CJ, Montgomery CG, Sivils KL, Rasmussen A. American Indians Have A Higher Risk Of Sjögren's Syndrome And More Disease Activity Than Caucasians And African-Americans. Arthritis Care Res (Hoboken), 2019 June, PMID: 31199565, PMCID: PMC6911033
Sharma R, Chaudhari KS, Kurien BT, Grundahl K, Radfar L, Lewis DM, Lessard CJ, Li H, Rasmussen A, Sivils KL, Scofield RH. Sjögren's Syndrome without focal lymphocytic infiltration of the salivary glands. J Rheumatol, 2019 May, PMID: 31092717
Miller BF, Pharaoh GA, Hamilton KL, Peelor FF, Kirkland JL, Freeman WM, Mann SN, Kinter M, Price JC, Stout MB. Short-term calorie restriction and 17α-estradiol administration elicit divergent effects on proteostatic processes and protein content in metabolically active tissues. J Gerontol A Biol Sci Med Sci, 2019 May, PMID: 31074767, PMCID: PMC7164531
Georgescu C, Corbin JM, Thibivilliers S, Webb ZD, Zhao YD, Koster J, Fung KM, Asch AS, Wren JD, Ruiz-Echevarría MJ. A TMEFF2-regulated cell cycle derived gene signature is prognostic of recurrence risk in prostate cancer. BMC Cancer 19:423, 2019 May, PMID: 31060542, PMCID: PMC6503380
James JA, Chen H, Young KA, Bemis EA, Seifert J, Bourn RL, Deane KD, Demoruelle MK, Feser M, O'Dell JR, Weisman MH, Keating RM, Gaffney PM, Kelly JA, Langefeld CD, Harley JB, Robinson W, Hafler DA, O'Connor KC, Buckner J, Guthridge JM, Norris JM, Holers VM. Latent autoimmunity across disease-specific boundaries in at-risk first-degree relatives of SLE and RA patients. EBioMedicine, 2019 April, PMID: 30952617, PMCID: PMC6491794
Kottyan LC, Maddox A, Braxton JR, Stucke EM, Mukkada V, Putnam PE, Abonia JP, Chehade M, Wood RA, Pesek RD, Vickery BP, Furuta GT, Dawson P, Sampson HA, Martin LJ, Kelly JA, Kimberly RP, Sivils K, Gaffney PM, Kaufman K, Harley JB, Rothenberg ME. Genetic variants at the 16p13 locus confer risk for eosinophilic esophagitis. Genes Immun 20:281-292, 2019 April, PMID: 29904099, PMCID: PMC6286696
Ahn B, Ranjit R, Premkumar P, Pharaoh G, Piekarz KM, Matsuzaki S, Claflin DR, Riddle K, Judge J, Bhaskaran S, Satara Natarajan K, Barboza E, Wronowski B, Kinter M, Humphries KM, Griffin TM, Freeman WM, Richardson A, Brooks SV, Van Remmen H. Mitochondrial oxidative stress impairs contractile function but paradoxically increases muscle mass via fibre branching. J Cachexia Sarcopenia Muscle 10:411-428, 2019 April, PMID: 30706998, PMCID: PMC6463475
Qian L, Bajana S, Georgescu C, Peng V, Wang HC, Adrianto I, Colonna M, Alberola-Ila J, Wren JD, Sun XH. Suppression of ILC2 differentiation from committed T cell precursors by E protein transcription factors. J Exp Med 216:884-899, 2019 April, PMID: 30898894, PMCID: PMC6446881
Perz AI, Giles CB, Brown CA, Porter H, Roopnarinesingh X, Wren JD. MNEMONIC: MetageNomic Experiment Mining to create an OTU Network of Inhabitant Correlations. BMC Bioinformatics 20:96, 2019 March, PMID: 30871469, PMCID: PMC6419333
Wren JD, Doerkson RJ, Toby IT, Nanduri B, Homayouni R, Manda P, Thakkar S. Proceedings of the 2018 MidSouth Computational Biology and Bioinformatics Society (MCBIOS) conference. BMC Bioinformatics 20:95, 2019 March, PMID: 30871470, PMCID: PMC6419330
Liu K, Petree C, Requena T, Varshney P, Varshney GK. Expanding the CRISPR Toolbox in Zebrafish for Studying Development and Disease Front Cell Dev Biol:7:13, 2019 Mar, PMID: 30886848, PMCID: PMC6409501
Unnikrishnan A, Freeman WM, Jackson J, Wren JD, Porter H, Richardson A. The role of DNA methylation in epigenetics of aging. Pharmacol Ther 195:172-185, 2019 March, PMID: 30419258, PMCID: PMC6397707
Wood AC, Wren JD, Allison DB. The Need for Greater Rigor in Childhood Nutrition and Obesity Research. JAMA Pediatr, 2019 February, PMID: 30801651
Chen Y, Adrianto I, Ianuzzi MC, Garman L, Montgomery CG, Rybicki BA, Levin AM, Li J. Extended methods for gene-environment-wide interaction scans in studies of admixed individuals with varying degrees of relationships. Genet Epidemiol, 2019 February, PMID: 30793815, PMCID: PMC6648658
Ziegler J, Zalles M, Smith N, Saunders D, Lerner M, Fung KM, Patel M, Wren JD, Lupu F, Battiste J, Towner RA. Targeting ELTD1, an angiogenesis marker for glioblastoma (GBM), also affects VEGFR2: molecular-targeted MRI assessment. Am J Nucl Med Mol Imaging 9:93-109, 2019 February, PMID: 30911439, PMCID: PMC6420708
Valcarcel-Ares MN, Tucsek Z, Kiss T, Giles CB, Tarantini S, Yabluchanskiy A, Balasubramanian P, Gautam T, Galvan V, Ballabh P, Richardson A, Freeman WM, Wren JD, Deak F, Ungvari Z, Csiszar A. Obesity in Aging Exacerbates Neuroinflammation, Dysregulating Synaptic Function-Related Genes and Altering Eicosanoid Synthesis in the Mouse Hippocampus: Potential Role in Impaired Synaptic Plasticity and Cognitive Decline. J Gerontol A Biol Sci Med Sci 74:290-298, 2019 February, PMID: 29893815, PMCID: PMC6376091
Towner RA, Smith N, Saunders D, Brown CA, Cai X, Ziegler J, Mallory S, Dozmorov MG, Coutinho De Souza P, Wiley G, Kim K, Kang S, Kong DS, Kim YT, Fung KM, Wren JD, Battiste J. OKN-007 Increases temozolomide (TMZ) Sensitivity and Suppresses TMZ-Resistant Glioblastoma (GBM) Tumor Growth. Transl Oncol 12:320-335, 2019 February, PMID: 30468988, PMCID: PMC6251232
Wren JD, Valencia A, Kelso J. Reviewer-coerced citation: Case report, update on journal policy, and suggestions for future prevention. Bioinformatics, 2019 January, PMID: 30698640, PMCID: PMC6748764
Shah HB, Smith K, Wren JD, Webb CF, Ballard JD, Bourn RL, James JA, Lang ML. Insights From Analysis of Human Antigen-Specific Memory B Cell Repertoires. Front Immunol 9:3064, 2019 January, PMID: 30697210, PMCID: PMC6340933
Kinney N, Titus-Glover K, Wren JD, Varghese RT, Michalak P, Liao H, Anandakrishnan R, Pulenthiran A, Kang L, Garner HR. CAGm: a repository of germline microsatellite variations in the 1000 genomes project. Nucleic Acids Res 47:D39-D45, 2019 January, PMID: 30329086, PMCID: PMC6323891
Bagavant H, Dunkleberger ML, Wolska N, Sroka M, Rasmussen A, Adrianto I, Montgomery C, Sivils K, Guthridge JM, James JA, Merrill JT, Deshmukh US. Antibodies to periodontogenic bacteria are associated with higher disease activity in lupus patients. Clin Exp Rheumatol 37:106-111, 2019 January, PMID: 29998833, PMCID: PMC6309750
Ratliff ML, Garton J, Garman L, Barron MD, Georgescu C, White KA, Chakravarty E, Wren JD, Montgomery CG, James JA, Webb CF. ARID3a gene profiles are strongly associated with human interferon alpha production. J Autoimmun 96:158-167, 2019 January, PMID: 30297159, PMCID: PMC6497177
Loading...
Contact Us
Genes & Human Disease Research Program
Oklahoma Medical Research Foundation
825 N.E. 13th Street
Oklahoma City, OK 73104
Phone: (405) 271-2572
Fax: (405) 271-3045
E-mail: Patrick-Gaffney@omrf.org