The Oklahoma Medical Research Foundation celebrated its 77th anniversary on Monday by kicking off a statewide campaign that harkens back to the foundation's roots.
"Over the next year, we're going to touch all 77 Oklahoma counties to say 'thank you' to Oklahomans for daring to dream in 1946 and for supporting that dream ever since," said OMRF President Andrew Weyrich, Ph.D. "We're calling it 77 for 77."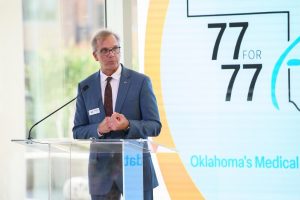 Weyrich was among several speakers during a kickoff event Monday night at the Oklahoma City-based nonprofit biomedical research foundation. Statewide chairs for the campaign are former First Ladies Kim Henry and Cathy Keating and former Governors Brad Henry and Frank Keating. Kim Henry served on OMRF's Board of Directors for 19 years and joined its National Advisory Council in 2022. Cathy Keating served on OMRF's Board for two years before joining the NAC in 2011.
On Aug. 28, 1946, the Oklahoma Secretary of State granted OMRF's charter. Shortly thereafter, the new foundation launched its initial campaign with a mission that holds true 77 years later: "That more may live longer." Organizers divided the state into 25 districts to raise awareness and funds. Through this effort, more than 7,500 Oklahomans raised $2 million in gifts and pledges, enough to begin building and staffing OMRF's headquarters.
Today, OMRF employs nearly 500 staff members who study cancer, heart disease, autoimmune disorders and diseases of aging. Their discoveries have yielded diagnostic tests and three lifesaving drugs now available in hospitals and clinics worldwide. In the foundation's Rheumatology and Multiple Sclerosis centers, clinicians care for more than 3,000 patients with autoimmune conditions such as lupus, rheumatoid arthritis and MS.
"OMRF is one of Oklahoma's crown jewels, and every Oklahoman should take pride in the work done here," Cathy Keating said. "I hope that over the next year, thousands more Oklahomans will recognize the world-class medical research taking place right here in their home state."
The 1940s campaign to launch OMRF is a blueprint for 77 for 77. As in the '40s, each district has local chairs who will host events for local OMRF donors as well as legislators, educators and community stakeholders in 25 focus cities.
Kim Henry, a former teacher, announced a component of 77 for 77 designed to introduce younger Oklahomans to OMRF. The foundation has created a hands-on science experiment kit to distribute to seventh-grade classes in Oklahoma. OMRF will pilot the program in Marlow Public Schools and Putnam City Schools this fall.
"This is a win-win for Oklahoma students," she said. "We'll inject critical support into our schools and open new avenues of learning for thousands of Oklahoma students."
Oklahoma City Mayor David Holt, who participated in cancer research fund drives for OMRF as a student in Putnam City Schools, called the foundation "a point of pride."
"Thanks to OMRF's incredible expansion, the foundation consistently raises Oklahoma City's national reputation," Holt said. "With each discovery, it draws the attention of the world's top researchers in cardiovascular biology, immunology, aging and genetics."
U.S. Rep Stephanie Bice (OK-05) noted that over the past two decades, OMRF scientists have won more than $500 million in research grants from the National Institutes of Health.
"These federal dollars are fiercely competitive," Bice said, "and they have yielded significant returns for Oklahomans and all Americans."
OMRF's story is unique among the nation's more than 80 independent research institutes, Weyrich told attendees at Monday night's kickoff event.
"To the best of our knowledge, OMRF is the only one created from a statewide campaign. And 77 years later, we've grown to house more than 50 labs and two life-changing clinics, thanks largely to the many Oklahomans who have continued to support our mission."
For information about OMRF's 77 for 77 campaign, including when Weyrich and foundation staff will be in your community, visit omrf.org/77.