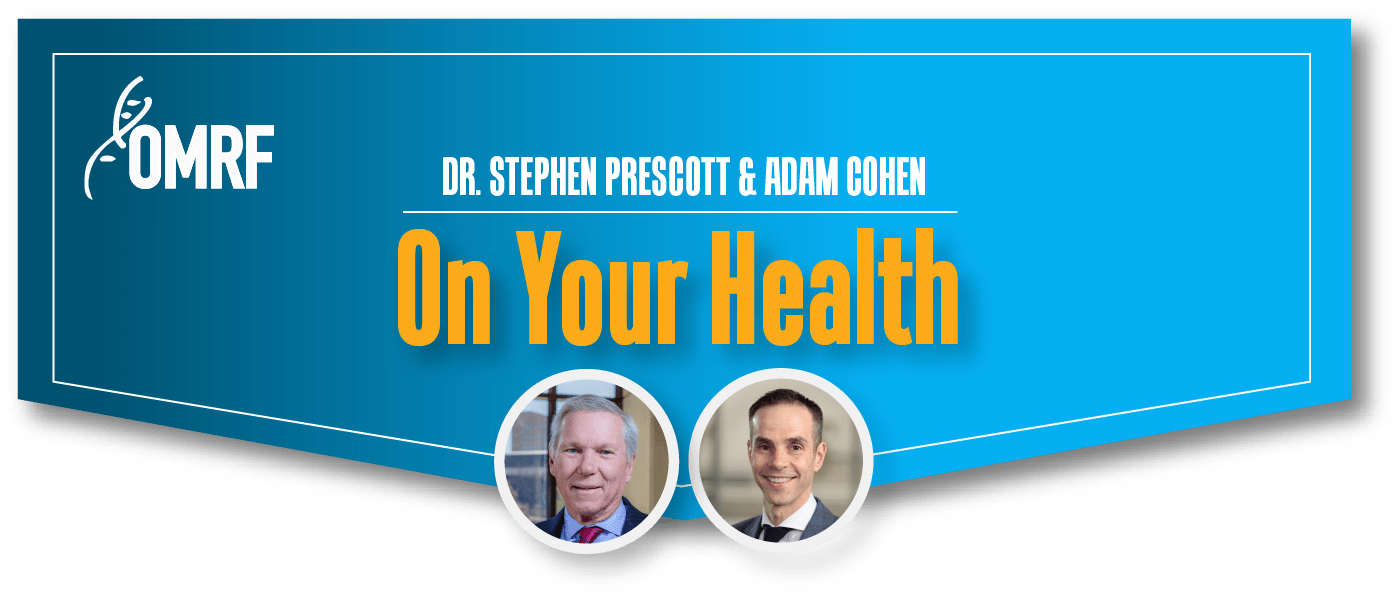 As a young physician in China, Dr. Lijun Xia treated people with life-threatening blood diseases. But few medications existed to help those he cared for, and over time, the hematologist grew frustrated.
"I wanted to do better for my patients, to give them a chance to live," he said. He realized that research held the key to finding new treatments. So, in 1995, he took a leap. Sight unseen, he came to the Oklahoma Medical Research Foundation for a postdoctoral fellowship with OMRF's Dr. Rodger McEver, an internationally recognized expert in the field of cardiovascular biology research.
"I didn't even know where Oklahoma was," Xia said. "But when Rod offered me the chance to learn from him, that was enough for me."
For seven years, he worked with McEver, learning the intricacies of the circulatory system. Eventually, he launched an ambitious project – to create a laboratory mouse that lacked a specific gene. When he succeeded, that led to important findings on the function of that gene, a major paper in an influential scientific journal, and the chance to start his own lab at OMRF in 2002.
Like all junior researchers, Xia wanted to establish his independence: to carve out his own scientific niche, and to find stable sources of funding that would support his work. Fortunately, he was in the right place at the right time.
Just two years earlier, Congress had created the Centers of Biomedical Research Excellence (COBRE) program within the National Institutes of Health. The idea behind the program was to catalyze biomedical research in states – like Oklahoma – that lacked the infrastructure and resources found in traditional research powerhouses like Massachusetts and California.
To help build this infrastructure, the NIH began awarding COBRE mentoring grants to senior scientists in states that historically have had lower levels of federal research funding. With these awards, senior researchers would help guide their junior colleagues down the path to research independence.
In 2003, OMRF's McEver secured a COBRE grant. That grant would provide invaluable research funding and mentorship to five junior Oklahoma scientists, including Xia. "We wanted to help promising researchers become fully funded, independent investigators," says McEver.
For Xia, the COBRE program worked like a dream. Branching out from his initial work with McEver on cells that line the walls of blood vessels, Xia made a series of novel findings about a group of sugars known as O-glycans. Those discoveries led to new grants to Xia from the NIH, and the research he's since done on those projects stands to help patients with fatty liver disease, a condition that affects as much as a quarter of the world's population and can lead to liver inflammation, cirrhosis and liver cancer.
He's also identified a previously unknown genetic disease, a skeletal disorder for which he's now working to start a clinical trial for an experimental therapy. His subsequent interactions with two Oklahoma girls living with the rare illness have underscored the importance of this effort.
"Once you see the patient, it makes you think how your research can help solve a real problem," said Xia, who now holds the Merrick Foundation Chair in Biomedical Research at OMRF. "It gives you more motivation."
In October, he once again broke new ground, this time publishing a series of insights about the microbiome, microorganisms that live in our bodies and outnumber our own cells by a factor of 10 to 1. The work appeared in the journal Science, perhaps the most influential of all scientific journals. He's also made important findings that could prove key in understanding why Covid-19 leads to cardiovascular issues for certain patients.
Xia's success is far from an anomaly. At OMRF, COBRE grants have helped launch the careers of more than a dozen principal scientists who are now established leaders in their fields. The same is true at the University of Oklahoma Health Sciences Center. OU-Norman, Oklahoma State University and Tulsa's Laureate Institute for Brain Research have also received COBRE awards.
In Oklahoma, COBRE support remains crucial; even though medical research funding has grown significantly in Oklahoma since 2000, we continue to fight an uphill battle when it comes to recruiting talented junior scientists to our state. At OMRF, the availability of COBRE funding has become a crucial selling point in those recruitment efforts, especially when we're able to show how successful it's been in catalyzing the careers of so many of our scientists.
In February, Xia added a new chapter to this narrative, securing a COBRE grant of his own. With the five-year, $13.1 million award, he'll mentor five junior investigators who've recently joined OMRF.
"Funding from a COBRE grant helped Dr. Xia launch his research career," says McEver. "With the opportunity to now lead one of his own, the story has come full circle."
__
Dr. Stephen Prescott is president of the Oklahoma Medical Research Foundation, and Adam Cohen is OMRF's senior vice president and general counsel. They can be reached at omrf-president@omrf.org. Get On Your Health delivered to your inbox each Sunday — sign up here.