Autoimmunity Center of Excellence (ACE)
Faculty / Contact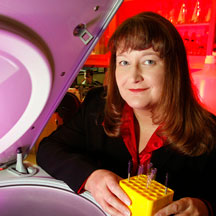 Judith A. James, M.D., Ph.D. is the Director of the Oklahoma ACE program and also serves as the Principal Investigator of the Administrative Core. The goals of the Administrative Core are:
To provide central management for Oklahoma ACE components and activities
To facilitate interactions of the Oklahoma ACE with other members of the ACE Network and the NIH ACE Program
To provide project management support progress of clinical and collaborative projects
To promote data sharing strategies
Dr. James also serves as leader of the Collaborative Project, along with Joel Guthridge, Ph.D. This project focuses on evaluating and refining molecular signatures and assessing the roles of monocytes and B cells in ACE cohorts and ACE clinical trials to aid treatment selection and clinical trial design.
For further information, or to request a collaboration, please contact Mary Flynn at mary-flynn@omrf.org or by telephone at (405) 271-7061.