Cell Cycle & Cancer Biology Research Program
What We Do
The Cell Cycle and Cancer Biology Research Program focuses on basic biological processes that control cell growth and cell division. Researchers within this program use cutting edge technologies in molecular biology, genetics, and advanced microscopy to investigate the factors that regulate genome stability in experimental systems such as budding yeast, Xenopus laevis, and cultured mammalian cells.
The contributions made by members of CCCB in illuminating the normal pathways of cell division and the malfunctions that lead to chromosome abnormalities have important implications for human diseases including birth defects and cancer.
The members of CCCB place strong emphasis on research training of students and postdoctoral fellows.
Our Scientists
Gary J. Gorbsky, Ph.D.
Member and Program Chair
Dean Dawson, Ph.D.
Associate Member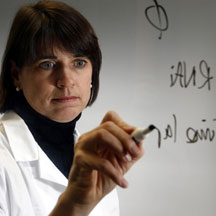 Susannah Rankin, Ph.D.
Associate Member
Christopher L. Sansam, Ph.D.
Associate Member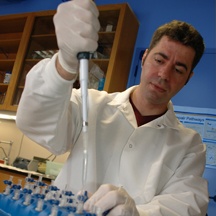 Roberto Pezza, Ph.D.
Assistant Member
Regis Meyer, Ph.D.
Research Assistant Member
Our Publications
2019
Hulke ML, Siefert JC, Sansam CL, Koren A. Germline Structural Variations Are Preferential Sites of DNA Replication Timing Plasticity during Development. Genome Biol Evol, 2019 May, PMID: 31076752
Previato de Almeida L, Evatt JM, Chuong HH, Kurdzo EL, Eyster CA, Gladstone MN, Gómez-H L, Llano E, Meyer R, Pendas AM, Pezza RJ, Dawson DS. Shugoshin protects centromere pairing and promotes segregation of nonexchange partner chromosomes in meiosis. Proc Natl Acad Sci U S A 116:9417-9422, 2019 May, PMID: 31019073
Rankin S. Reconstituting Nuclear and Chromosome Dynamics Using Xenopus Extracts. Cold Spring Harb Protoc 2019:pdb.top097105, 2019 March, PMID: 30150319
Seibert M, Krüger M, Watson NA, Sen O, Daum JR, Slotman JA, Braun T, Houtsmuller AB, Gorbsky GJ, Jacob R, Kracht M, Higgins JMG, Schmitz ML. CDK1-mediated phosphorylation at H2B serine 6 is required for mitotic chromosome segregation. J Cell Biol 218:1164-1181, 2019 April, PMID: 30765437, PMCID: PMC6446833
da Silva EML, Rankin S. Chromosome Cohesion and Condensation in Xenopus Egg Extracts. Cold Spring Harb Protoc 2019:pdb.prot097121, 2019 February, PMID: 29475994
2018
Fields E, Wren JD, Georgescu C, Daum JR, Gorbsky GJ. Predictive bioinformatics identifies novel regulators of proliferation in a cancer stem cell model. Stem Cell Res 26:1-7, 2018 January, PMID: 29179130, PMCID: PMC5899939
Guiraldelli MF, Felberg A, Almeida LP, Parikh A, de Castro RO, Pezza RJ. SHOC1 is a ERCC4-(HhH)2-like protein, integral to the formation of crossover recombination intermediates during mammalian meiosis. PLoS Genet 14:e1007381, 2018 May, PMID: 29742103, PMCID: PMC5962103
Kurdzo EL, Chuong HH, Evatt JM, Dawson DS. A ZIP1 separation-of-function allele reveals that centromere pairing drives meiotic segregation of achiasmate chromosomes in budding yeast. PLoS Genet 14:e1007513, 2018 August, PMID: 30091974, PMCID: PMC6103513
Meyer RE, Brown J, Beck L, Dawson DS. Mps1 promotes chromosome meiotic chromosome biorientation through Dam1. Mol Biol Cell 29:479-489, 2018 February, PMID: 29237818, PMCID: PMC6014172
Patel MM, Behar AR, Silasi R, Regmi G, Sansam CL, Keshari RS, Lupu F, Lupu C. Role of ADTRP (Androgen-Dependent Tissue Factor Pathway Inhibitor Regulating Protein) in Vascular Development and Function. J Am Heart Assoc 7:e010690, 2018 November, PMID: 30571485, PMCID: PMC6404433
Sansam CG, Pietrzak K, Majchrzycka B, Kerlin MA, Chen J, Rankin S, Sansam CL. A mechanism for epigenetic control of DNA replication. Genes Dev 32:224-229, 2018 February, PMID: 29483155, PMCID: PMC5859964
Sapkota H, Wasiak E, Daum JR, Gorbsky GJ. Multiple determinants and consequences of cohesion fatigue in mammalian cells. Mol Biol Cell 29:1811-1824, 2018 August, PMID: 29846129, PMCID: PMC6085821
Siefert JC, Clowdus EA, Goins D, Koren A, Sansam CL. Profiling DNA Replication Timing Using Zebrafish as an In Vivo Model System. J Vis Exp, 2018 April, PMID: 29757277, PMCID: PMC6101039
Contact Us
Gary J. Gorbsky, Ph.D.
WH and Betty Phelps Chair in Developmental Biology
Chair, Cell Cycle and Cancer Biology
Oklahoma Medical Research Foundation
825 NE 13th Street, MS 48
Oklahoma City, OK 73104
Phone: (405) 271-8168
Fax: (405) 271-7312
Email: gary-gorbsky@omrf.org