January
Dr. Andrew

Weyrich begins

his tenure as
OMRF's 11th

President.

In January of 2021, when it came time for the United States to transition from one presidency to the next, things did not go smoothly. In January of 2022, OMRF had no such problems.

Right after the New Year, Dr. Andrew Weyrich became OMRF's 11th president. He succeeded Adam Cohen, who'd been leading OMRF in an interim capacity since Dr. Stephen Prescott's death in the spring of 2021.

When Weyrich arrived, Cohen, a 20-year OMRF veteran, resumed his role as the foundation's senior vice president and general counsel. Meanwhile, Weyrich hit Oklahoma's red dirt running.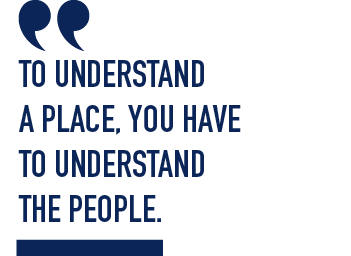 After a three-decade career at the University of Utah, where he'd been a cardiovascular biology researcher and, since 2016, the vice president for research, Weyrich set his sights on learning all he could about OMRF. That meant visits with the foundation's administrative groups and board members. Still, the centerpiece of his get-to-know-OMRF effort was spending time with each of the foundation's individual research laboratory teams.
Beginning in January, he mapped a plan to visit all 50-plus of OMRF's labs. During those visits, which he started within weeks of his arrival at OMRF, he made a point not just of diving into the scientific projects in that particular lab, but of connecting with the individuals doing the experiments. "To understand a place, you have to understand the people," says Weyrich. "That means engaging with them face-to-face and learning what makes them tick."
When Weyrich came to Dr. Bill Freeman's lab in late January, the visit left a distinct impression. "He emphasized that the success of OMRF isn't measured just by published papers and grants, but also by the development of our scientific staff," says Freeman, a member of OMRF's Genes & Human Disease Research Program. "That really resonated with me."
Dr. Sarah Ocañas, who was completing her Ph.D. in Freeman's lab when Weyrich visited, was impressed with the president's level of engagement with each member of the research team. "He told us his door is always open, and you could tell it wasn't some obligatory statement. He meant it."
By year's end, having gone deep with every scientific group at OMRF, Weyrich was sketching out a similar outward-facing effort. "For OMRF's 77th anniversary in 2023, our team plans to visit all 77 counties in Oklahoma," he says. He knows it's an ambitious goal, but he's excited by the prospect. "People from every corner of this state have given to OMRF to make us what we are today. I can't wait to meet them in person and tell them thank you."