Dinner conversation at the Sansam home is pretty heady stuff: genes, molecules and how errors during DNA replication lead to cancer and other diseases. Even on Valentine's Day.
"Our 13-year-old son tells us we're always talking about work," said Courtney Sansam, Ph.D.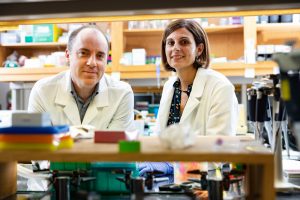 Such is life when your parents are teammates at home and in the lab.
Courtney and Chris Sansam, Ph.D., sweethearts since graduate school, are among nearly three dozen married couples at the Oklahoma Medical Research Foundation. Combined, they comprise more than 10% of OMRF's workforce. In most cases, each couple works in the same lab.
This phenomenon isn't unique to OMRF, nor is it new. Marie and Pierre Curie won a joint Nobel Prize in 1903 for discovering the radioactive elements radium and polonium. They were the first married couple to win a joint Nobel Prize, and four others – including their daughter and son-in-law – have done it since.
In 2008, a Stanford University study of more than 9,000 faculty members found 36% to be part of an academic couple. Of those, 38% worked in the same department. Among scientists, the figures were even higher: Of those in relationships, 83% of women and 54% of men chose a fellow scientist as their significant other.
Rose Ko, Ph.D., half of another OMRF scientist couple, has a theory for those numbers: "There's no guilt when work calls," said Ko, who's been married to Bob Axtell, Ph.D., since 2008. "It's like, 'I know we said we were going to do a movie, but I have this lab result I need to check on.' Another scientist is going to say, 'I totally understand.'"
Axtell and Ko study multiple sclerosis. Like the Sansams, they met as grad students and chose to join forces rather than open separate labs. The pressures of science might follow them home, the couple said, if it weren't for their 4-year-old sons. "Having twins kind of makes it simple," says Axtell. "At home, we're focused on our guys' needs – and that they're not, you know, injuring themselves."
Until a few years ago, the couple's Valentine's Day routine featured a long walk followed by a special meal, Axtell said. But that was pre-kids. Since welcoming the boys in 2018, Axtell laughed, "our Valentine's Day dinner is take-out."
For the Sansams, with the toddler years long past, there's no compartmentalizing work and home. Holiday or not, said Chris, "I ask science questions all the time." And despite collaborating for the last decade, they joke they're still making up for lost time. With rigorous schedules during their graduate studies and postdoctoral years at different institutions, "We never saw each other."
While this Valentine's Day may be just another Tuesday working to advance human health for these OMRF scientist pairs, one thing is sure: they'll do it together.