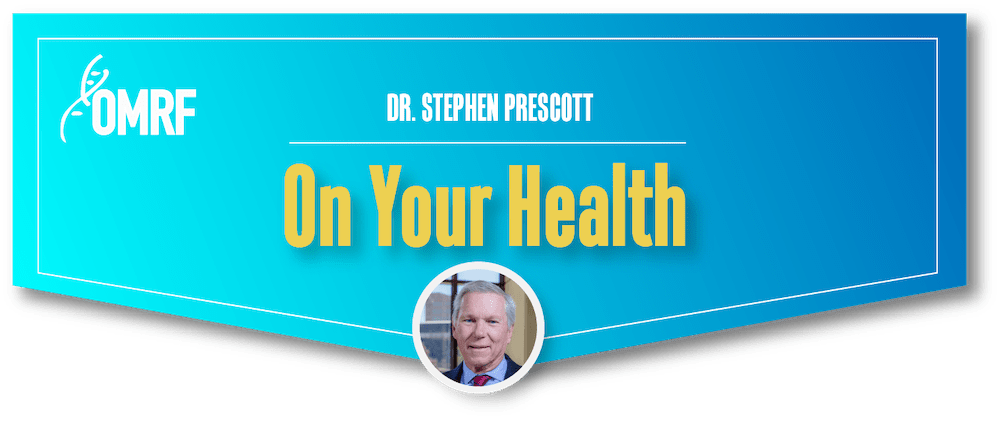 Throughout the pandemic, OMRF has partnered with AARP Oklahoma to help answer questions that our state's seniors have about the coronavirus. Specifically, I've participated in multiple virtual town halls organized by AARP, and for many months AARP Oklahoma has been regularly posting my responses to members' virus-related health queries on its website.
Those questions have proven wide-ranging and thoughtful. So, it's no surprise that when Chad Mullen, AARP Oklahoma's associate state director of advocacy, sent one of his own along, it got me thinking.
"The Centers for Disease Control recently started releasing more granular data on comorbidities and Covid-19 deaths. Although similar data has been available since at least early April, many on social media are interpreting this to mean that of all the virus-related deaths, only 6 percent were caused by Covid-19 and we all greatly overreacted. Are they right?"
Well, no.
But for a more thoughtful response, I enlisted OMRF's Dr. Eliza Chakravarty. She's a triple threat: an immunologist, a rheumatologist and (most relevant to Chad's question) an epidemiologist.
One death, many causes
While it's true that a person who gets hit by a bus has but a single cause of death, said Dr. Chakravarty, that's not the case for most people. "Especially as you get older, you have comorbidities" – other conditions that contribute to a person's demise.
Determining a cause of death, she said, "is an inexact science." For example, imagine a person who is suffering from heart failure and COPD and then passes away after developing lung cancer. Did the cancer kill them?
Death certificates list an immediate cause of death, plus related causes. In the example above, lung cancer would be the immediate cause, while COPD and heart failure would appear as related causes. But, Chakravarty said, that doesn't mean you can consider any one of those illnesses blameless in this (theoretical) death.
"Without the COPD and heart failure, your body might have been strong enough to survive the cancer," she said. "Or at least you might have had survived for a significantly longer time."
This, she said, is likely what's happening with the coronavirus. "Yes, most of the people who are dying from Covid-19 had other health challenges like diabetes and hypertension." But, she explained, "Without the virus, the chances they would have died when they did are much lower."
In most cases, people without underlying health risks can survive infection. But, she said, "People with lower health reserves" – comorbidities – "are usually the ones who don't."
Learning from history
To sort all of this out in a mathematical way, epidemiologists rely on a powerful tool: monthly death statistics. The CDC and others have compiled these statistics for many years, and it turns out that you can predict with almost mathematical certainty how many people in the U.S. are going to die in a given month.
"So, you can compare what you expect to see based on past numbers versus what's actually going on," Chakravarty said. "If you find that you have many more deaths than you'd anticipate, there's something else happening."

This year, deaths in the U.S. have seen a big bump over historical averages. To date, the data point to more than 200,000 excess deaths this year. These figures suggest that, if anything, the official mortality figures – approximately 190,000 in the U.S. – are actually undercounting deaths attributable to Covid-19.
All of this reminded Dr. Chakravarty of the pitfalls inherent in epidemiology and statistics. "You need to pay attention to your assumptions," she said. If you're already pre-disposed to believing something, a cherry-picked figure can carry a lot of persuasive value to a like-minded audience. And, especially in this day and age, "You can find some random statistic to back up anything you want to say."
In fact, she said, our discussion brought to mind an observation Mark Twain popularized more than a century ago. "There are three kinds of lies: lies, damned lies, and statistics."
—
Get Dr. Prescott's column delivered to your inbox each Sunday — sign up here.