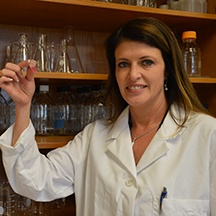 Patients with certain autoimmune diseases like lupus and Sjögren's syndrome make abnormal immune responses to healthy tissue, in particular to components of the cell nucleus, where genetic information is stored. Most of these lupus "autoantigens" are also either DNA- or RNA-binding proteins. Studies in my laboratory have focused primarily on learning how the immune system normally learns not to respond to these types of nuclear components and, conversely, why these mechanisms don't work in lupus. Our major approach has been to create and study genetically engineered mice that have very large numbers of immune T or B cells that can specifically bind to one particular RNA-binding lupus autoantigen called "La" that was discovered by our own Dr. Morris Reichlin. Because a normal mouse or person has as few as one in a million such cells —too few to study, these special mice, along with mice that have been engineered to express the human La antigen, are allowing us to find out for the first time how the immune system normally deals with these particular types of autoreactive immune cells. In the near future, we will have the capacity to study these questions in mice that have autoimmune pre-disposing genes in their genetic backgrounds that will allow us to find out exactly why and how certain genes promote autoimmunity.
More recently, our lab has partnered with Dr. Judith James to develop novel approaches to anthrax vaccination. Dr. James and her team are currently identifying short region (peptides) of the anthrax toxin proteins that are specifically bound by antibodies. The development of antibodies that can neutralize, or inhibit, the activity of anthrax toxins is the goal of vaccination; unfortunately, not all antibodies have this property. Our group will use the information obtained by Dr. James to determine which of the toxin component peptides can induce neutralizing antibodies. We will then create novel vaccine candidates by coupling the desirable peptides to a recombinant form of protective antigen, which will be initially tested in mice. It is our hope that these studies will lead to a safer and more effective anthrax vaccine.
Education
B.S., Oklahoma Christian University of Science and Arts (summa cum laude), 1990
M.S., University of Oklahoma Health Sciences Center, 1993
Ph.D., Immunology, University of Oklahoma Health Sciences Center, 1995
Postdoc, University of Melbourne, Melbourne, Australia, 1998
Honors and Awards
1986-1990 Presidential Scholar, Oklahoma Christian University
1987 Outstanding Freshman Student in the Biological Sciences, Oklahoma Christian University
1987-1990 Alpha Chi National Honor Society
1990 Senior Science Award, Oklahoma Christian University
1992 American College of Rheumatology Student Travel Award
1993-1995 OUHSC Graduate Student Association High GPA Award
1993-1995 Oklahoma Medical Research Foundation Predoctoral Fellow
1995 OUHSC Graduate Student Association Grant Award
1995 Alpha Epsilon Lambda National Graduate and Professional Honor Society, Delta Chapter
1996 NIH Training Grant Fellow
1996 Plenary Session Presentation, American College of Rheumatology National Meeting, Orlando Florida
1997-1999 National Arthritis Foundation Postdoctoral Fellow
2000 OMRF Foundation Fellow
2001 American Association of Immunologists Travel Award to the 11th International Congress of Immunology, Stockholm, Sweden
2002 The Merrick Award for Outstanding Research
Other Activities
Invited lecturer: 2009 Workshop on the Immunology of Anthrax, Cardiff, Wales
Grant Reviewing: VA merit grants (1999), NIH NIAMS Special Emphasis Panel (2001-2002), NIH IRG Special Study Section (2006), "Ancillary Studies in Immunomodulation Clinical Trials" Study Section ZAI1-PA-I-I-M-1 (2010), ZRG1 MOSS A-01 Special Emphasis Panel (2010), ZRG1 MOSS K(80) SEP (2011), NIH ODCS Study Section (2011), NIH P01 review ZAI1-SV-I-M2 (2012), NIH 2013/05 ZRG1 MDCN-R (02) "Neuronal Communication" (2013), NIH ODCS, 2014/05 ZRG1 MOSS-C (80) S (2014), Icelandic Research Fund (2014), Oral Dental and Craniofacial Sciences Study Section (2015-present)
Journal reviewing: Arthritis and Rheumatism, International Immunology, Clinical and Experimental Immunology, Scandinavian Journal of Immunology, Tissue Antigens, European Journal of Pharmacology, Cell Research, Nature Immunology, Journal of Immunology, Antimicrobial Agents and Chemotherapy, Plos One, Journal of Infection, BMC Infectious Diseases, International Journal of Rheumatic Diseases, Medical Sciences, Vaccine, Scandinavian Journal of Rheumatology
Meeting Session Chairing: ACR concurrent session co-chair, 2002; ACR Sjögren's syndrome study group co-chair, 2008; AAI block symposium chair, 2013
Lecturer, Advanced Immunology Course, Department of Microbiology and Immunology, University of Oklahoma Health Sciences Center
Lecturer, Graduate Program in the Biological Sciences (GPiBs) 2nd year curriculum, University of Oklahoma Health Sciences Center
Lecturer, Pathobiology Course, Department of Pathology, University of Oklahoma Health Sciences Center
Mentoring of students: PhD Candidates, GPiBs rotating graduate students, Undergraduate Honors Thesis Students, OMRF Fleming Scholars Summer Research Program and Presbyterian Health Foundation Summer Scholars Program for M.D. students
Institutional Committees:
OMRF Fleming Scholar Selection Committee, 2002
OMRF Annual Retreat Planning Committee, 2002 – 2005
OMRF Institutional Animal Care and Use Committee, 2002 – present
OMRF Graduate Education Committee, 2002 – present
OMRF Special Committee 2, 2002 – present
OUHSC Department of Microbiology and Immunology Qualifying Examinations Committee, 2002
Member, OMRF Research Forum Committee, 2005 – present
Memberships
American Association of Immunologists, 1999 to present
American College of Rheumatology, 2000 to present
American Society of Microbiology, 2008 to present
Henry Kunkel Society, 2010 to present
Joined OMRF Scientific Staff in 1999.
The primary focus of our laboratory is to understand tolerance and autoimmunity to ubiquitous nuclear antigens that are targeted in systemic autoimmune diseases such as systemic lupus erythematosus and Sjögren's syndrome. Using a human La (SS-B) transgenic mouse model and novel T cell receptor and B cell receptor transgenic models, we are delineating mechanisms of T and B cell tolerance to this ubiquitous, RNA-binding nuclear antigen.
A second major effort in our laboratory is to use animal models to decipher details of the neutralizing antibody response to major antigenic targets of Bacillus anthracis and then to use this information to improve current vaccine strategies to this bioterror threat.
Recent Publications
Garman L, Smith K, Muns EE, Velte CA, Spooner CE, Munroe ME, Farris AD, Nelson MR, Engler RJ, James JA. Unique Inflammatory Mediators and Specific IgE Levels Distinguish Local from Systemic Reactions After AVA Vaccination. Clin Vaccine Immunol. 2016 Jun 8. pii: CVI.00092-16.[Abstract] [Epub ahead of print]
Joachims ML, Leehan KM, Lawrence C, Pelikan RC, Moore JS, Pan Z, Rasmussen A, Radfar L, Lewis DM, Grundahl KM, Kelly JA, Wiley GB, Shugay M, Chudakov DM, Lessard CJ, Stone DU, Scofield RH, Montgomery CG, Sivils KL, Thompson LF, Farris AD. Single-cell analysis of glandular T cell receptors in Sjögren's syndrome. JCI Insight. 2016 Jun 2;1(8). pii: e85609. [Abstract] PMCID: PMC4922426
Yaciuk JC, Pan Y, Schwarz K, Pan ZJ, Maier-Moore JS, Kosanke SD, Lawrence C, Farris AD. Defective selection of thymic regulatory T cells accompanies autoimmunity and pulmonary infiltrates in Tcra-deficient mice double transgenic for human La/Sjogren's syndrome-B and human La-specific TCR. J Immunol 2015. [Abstract] EPub
Selected Publications
Maier-Moore JS, Koelsch KA, Smith K, Lessard CJ, Radfar L, Lewis D, Kurien BT, Wolska N, Deshmukh U, Rasmussen A, Sivils KL, James JA, Farris AD, Scofield RH. Antibody-secreting cell specificity in labial salivary glands reflects clinical presentation and serology in Sjogren's syndrome patients. Arthritis Rheumatol 66:3445-3456, 2014. [Abstract]
Garman L, Smith K, Farris AD, Nelson MR, Engler RJ, James JA. Protective antigen-specific memory B cells persist years after anthrax vaccination and correlate with humoral immunity. Toxins (Basel) 6:2424-2431, 2014. [Abstract]
Altorok N, Coit P, Hughes T, Koelsch KA, Stone DU, Rasmussen A, Radfar L, Scofield RH, Sivils KL, Farris AD, Sawalha AH. Genome-wide DNA methylation patterns in naive CD4 T cells from patients with primary Sjogren's syndrome. Arthritis Rheum 66:731-739, 2014. [Abstract]
Rasmussen A, Ice JA, Li H, Grundahl K, Kelly JA, Radfar L, Stone DU, Hefner KS, Anaya JM, Rohrer M, Gopalakrishnan R, Houston GD, Lewis DM, Chodosh J, Harley JB, Hughes P, Maier-Moore JS, Montgomery CG, Rhodus NL, Farris AD, Segal BM, Jonsson R, Lessard CJ, Scofield RH, Sivils KL. Comparison of the American-European Consensus Group Sjogren's syndrome classification criteria to newly proposed American College of Rheumatology criteria in a large, carefully characterised SICCA cohort. Ann Rheum Dis 73:31-38, 2014. [Abstract]
Lessard CJ, Li H, Adrianto I, Ice JA, Rasmussen A, Grundahl KM, Kelly JA, Dozmorov MG, Miceli-Richard C, Bowman S, Lester S, Eriksson P, Eloranta ML, Brun JG, Goransson LG, Harboe E, Guthridge JM, Kaufman KM, Kvarnstrom M, Jazebi H, Graham DS, Grandits ME, Nazmul-Hossain AN, Patel K, Adler AJ, Maier-Moore JS, Farris AD, Brennan MT, Lessard JA, Chodosh J, Gopalakrishnan R, Hefner KS, Houston GD, Huang AJ, Hughes PJ, Lewis DM, Radfar L, Rohrer MD, Stone DU, Wren JD, Vyse TJ, Gaffney PM, James JA, Omdal R, Wahren-Herlenius M, Illei GG, Witte T, Jonsson R, Rischmueller M, Ronnblom L, Nordmark G, Ng WF, for UK Primary Sjogren's Syndrome Registry, Mariette X, Anaya JM, Rhodus NL, Segal BM, Scofield RH, Montgomery CG, Harley JB, Sivils KL. Variants at multiple loci implicated in both innate and adaptive immune responses are associated with Sjogren's syndrome. Nat Genet 45:1284-1292, 2013. [Abstract]
* Coggeshall KM, Lupu F, Ballard J, Metcalf JP, James JA, Farris D, Kurosawa S. The sepsis model: an emerging hypothesis for the lethality of inhalation anthrax. J Cell Mol Med 17:914-920, 2013. [Abstract]
Arthritis & Clinical Immunology Research Program, MS 24
Oklahoma Medical Research Foundation
825 N.E. 13th Street
Oklahoma City, OK 73104
Phone: (405) 271-7389
Fax: (405) 271-4110
E-mail: Darise-Farris@omrf.org