The OMRF Clinical Genomics Center (CGC) is the preeminent sequencing facility in Oklahoma. Equipped with an Illumina NovaSeq 6000, Illumina NextSeq 2000, Illumina MiSeq, Illumina iSeq, Oxford Nanopore PromethION 2, and Oxford Nanopore MinION, there are very few NGS projects the OMRF CGC is not capable of performing in a rapid, cost-effective manner. The center is additionally equipped with an Illumina iScan and Autoloader for extremely-high throughput genotyping projects.
The CGC seeks to support all aspects of the local biotech industry and academia. The center can perform all aspects of NGS, ranging from whole genome sequencing to single-cell transcriptomics. The CGC welcomes the opportunity for community outreach and has hosted many tours of its facilities as well as provided guest lecturers in various classes, departmental seminars, and industry-sponsored seminars.
Pricing and Submissions
Accessing Data
Upon completion of a run all read data will be converted into fastq format and placed on an accessible FTP site. Information on accessing this site will be emailed to the respective researcher as soon as it is available. The FTP site is only a temporary storage site, however, and all data is subject to deletion without notice after two weeks.
Bioinformatics Support and Training
The CGC is partnered with the OMRF Quantitative Analysis Core to provide bioinformatics and statistical support for its users. Additional training is available through OMRF's Center for Biomedical Data Sciences.
Contact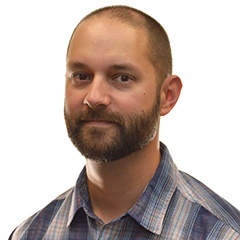 Graham Wiley, Ph.D.
Room E-313
(405) 271-2469
Graham-Wiley@omrf.org