Len Cason marks two decades at the helm of OMRF's Board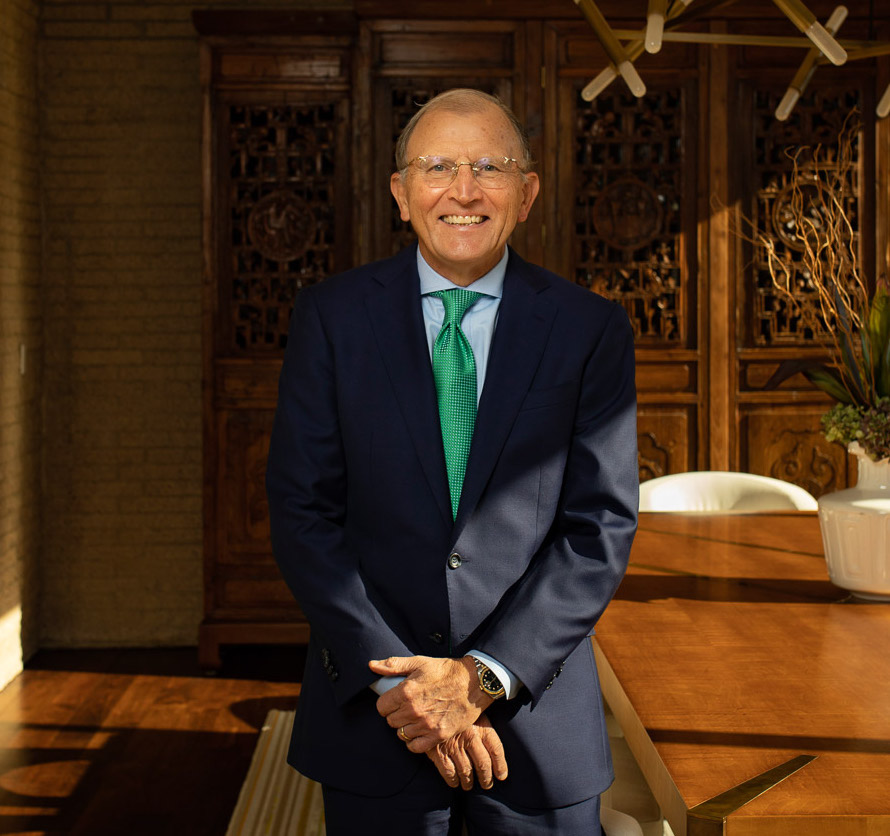 When Len Cason received a call in 1988 asking him to join OMRF's Associate Board of Directors, the Oklahoma City attorney had one important question. "I asked, 'What does OMRF stand for?'" he recalls, chuckling.
In the years that followed, he'd learn the answer better than he ever imagined, serving first on the foundation's Associate Board and then, in 1991, becoming a member of OMRF's full Board when that group absorbed the Associate Board. Still, when Cason studied a roster of his new colleagues, he realized he didn't possess the same financial resources as other directors. So, he says, "I needed to find another way to help OMRF."
He joined the Board's Development Committee, where he helped spearhead fundraising initiatives to support OMRF science and rose to chair the committee. In 2001, a schism among the foundation's directors precipitated a search for new leadership for the full Board. "There were two factions, and they needed someone neutral as chair," remembers Cason. "I guess I was Switzerland." That year, he was elected Board chair.
The volunteer position comes with a one-year term. But since then, Cason has been unanimously reelected 19 consecutive times. On the heels of the most recent vote, he'll celebrate his 20th anniversary as Board chair when he begins his new term in 2021.
"You just don't see this continuity of leadership on nonprofit boards," says Bruce Benbrook, who chairs OMRF's Governance Committee and renominated Cason this past autumn. "It's a testament to Len's commitment to OMRF that he's willing to continue to devote his time and service to the foundation. And the fact that he keeps getting reelected – with 100% support – speaks volumes about what kind of leader he is."
Cason's tenure has been marked by tremendous growth at the foundation. He was instrumental in securing a pair of major grants from the state to build the Research Tower in 2011, the centerpiece of the largest campus expansion in OMRF's history. Under his leadership, the foundation's operating budget has more than doubled, and a combination of scientific success, philanthropic support and fiscal discipline has enabled the foundation to nearly triple its endowment. Three drugs born at OMRF have received FDA approval in this span, during which the National Institutes of Health has also repeatedly named the foundation one of the country's 10 Autoimmunity Centers of Excellence.
"OMRF has become an iconic institutional presence in our community and state," says retired Oklahoma Supreme Court Justice Steven Taylor, who joined the Associate Board in 1988 with Cason and has continued to serve with him on OMRF's full Board since 1991. "A lot of that has to do with what I'd call Len's inviting leadership style. He has created an atmosphere where people want to be involved with OMRF."
• • •
Leadership is nothing new to Cason. After a sports-filled youth in the Oklahoma town of Lindsay, where Cason played middle linebacker and defensive tackle on his state championship high school football team, he attended the University of Oklahoma. He served as president of the Beta Theta Pi fraternity, with pledge brothers who would go on to become not only lifelong friends but also fellow OMRF directors (Michael Cawley and Bill Johnstone) and a founding member of OMRF's National Advisory Council (Don Cogman).
In law school at OU, Cason made a few extra dollars playing the tenor saxophone in a band that had a regular Sunday night gig at the Hilton by Will Rogers World Airport. (His favorite song was "Yakety Sax.") Upon graduation, he spent four years as a captain in the Air Force Judge Advocate General Corps, including a deployment in Southeast Asia defending soldiers in court-martial proceedings after the Vietnam War. While there, he and his fiancée, Donna, earned a spot in the Guinness Book of World Records for what was then the longest distance marriage ceremony (12,000 miles): He was in Thailand, she in Orlando. They said their vows over the phone, the groom with an entire raucous military base in attendance. "We have 14,000 people here!" Cason shouted into the phone at one point during the ceremony, which was conducted at midnight in Thailand and noon in Florida.
"Afterwards, the public information officer took Donna's picture off my desk and sent it to the wire services," says Cason. "Two days later, her photo was on the front page of The New York Times, the South China Morning Post and the Bangkok News." The couple, who now have three grown sons and share a passion for ballroom dancing, recently celebrated their 47th anniversary.
Following a stint at a major law firm in Dallas (where he also earned a master's degree in tax law from Southern Methodist University), Cason returned in 1979 to Oklahoma City to start a practice with a former mentor and another attorney. "I went from a 50th-floor office to a little space on Northwest Expressway with a brown shag carpet, a card table and four folding chairs," he recalls. With specialties in tax, estate planning and business law, Cason traveled the state to generate business. "If the Guymon Rotary Club needed someone to speak, I was there."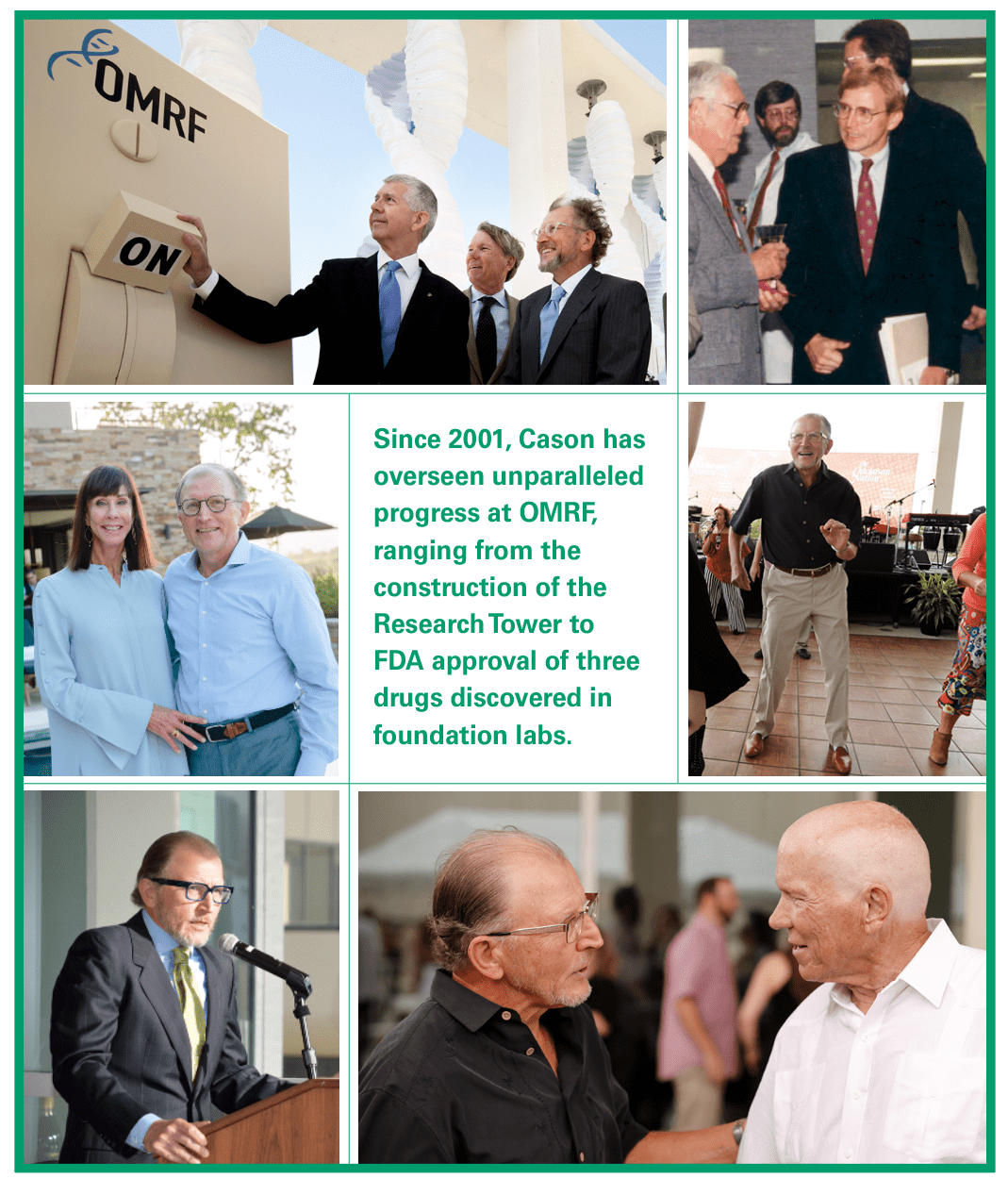 Over time, that approach paid off. Today, Hartzog Conger Cason is one of the state's most prestigious law firms, counting more than 35 attorneys and representing some of Oklahoma's leading businesses and individuals.
For Cason, practicing law is simply about solving problems. And the stickier the situation, the better. "That's the best part: to find a problem that looks like there's no way out and then to fix it."
Those same skills have served Cason well in helming OMRF's Board, where he's helped navigate the foundation through countless challenging situations. "Len is constantly applying his experience as a lawyer to every decision we make," says Taylor. "That has really benefited the foundation."
As chair, Cason has particularly enjoyed working with Dr. Stephen Prescott, whom he recruited from the University of Utah's Huntsman Cancer Institute to become OMRF's president in 2006. "We bonded immediately, and that was one of the primary factors that drew me here," says Prescott. But before he'd accept the position, Prescott asked Cason to commit to continuing to serve as chair, a promise Cason gave without hesitation.
In the 14-plus years since, says Cason, "We've never had an argument. We've never really disagreed about anything." The two, he says, "think alike" and are aligned when it comes to both goals and tactics. "And that's pretty special."
Cason has served on numerous other nonprofit boards in the city and state, but none have resonated with him like OMRF. "What OMRF does is so incredible – the science is amazing. I'm honored to be a part of it."
Of course, it never would have happened but for that out-of-the-blue phone call he received more than three decades ago.
"It's a coincidence I got here," says Cason, smiling. "But it's not a coincidence I've stayed."