November
Dr. Sarah Ocañas becomes Oklahoma's first recipient
of a $2.2 million early independence grant.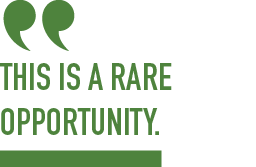 Dr. Sarah Ocañas didn't take the traditional path to becoming a research scientist.
After graduating from college with degrees in mathematics and biology, she joined Teach for America, a nonprofit that sends educators to underserved communities. Ocañas was assigned to Texas' Rio Grande Valley, where she taught high school calculus, statistics and anatomy.
At once, she saw her students faced obstacles that many peers elsewhere did not. "It's a region that's right on the border, and it's 95% Hispanic. There's a lot of recent immigrants, most are low income, and many don't speak English." Ocañas embraced the experience. "I loved the area, and I really enjoyed teaching down there."
In addition to classroom work, she tried to create external growth opportunities for students, coaching robotics and competitive math teams. In seven years of teaching, she successfully helped students gain admission to prestigious universities like Yale and the Massachusetts Institute of Technology. Perhaps more importantly, in that time she mentored more than 1,000 young people as they tried to master mathematics, science and the transition into adulthood.
When Ocañas decided to pursue a Ph.D. in biology at the University of Oklahoma Health Sciences Center, she found her own mentor in OMRF's Dr. Bill Freeman. She spent five years in Freeman's lab, and when she earned her doctorate in 2022, she again blazed her own trail, becoming Oklahoma's first recipient of the National Institutes of Health Director's Early Independence Award.
Ocañas joins an elite group of awardees, with the other 13 recipients in 2022 coming from institutions like Harvard, Stanford and MIT. The award provides a five-year, $2.2 million grant that allows Ocañas to bypass the traditional postdoctoral fellowship and start her independent research laboratory at OMRF.
"This is a rare opportunity – to jump from getting her doctorate to having her own lab in just months," says Freeman. "I'm excited for Dr. Ocañas, but also for OMRF because we get to keep a talented scientist."
In her lab, Ocañas will study why diseases progress differently in males and females. She'll initially target Alzheimer's, which strikes more often and leads to steeper declines in women, yet typically results in earlier deaths in men.
Understandably, Ocañas is eager to begin. "I'm finally in a position where I can tunnel-vision focus and figure out some really cool science." If the past is any predictor, the results will be anything but ordinary.