June
OMRF has welcomed military academy
students

to its labs

s

ince 2009.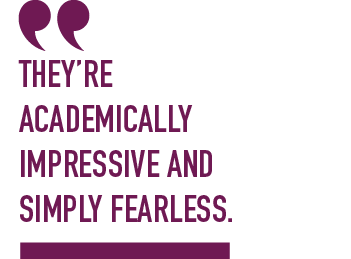 For Dr. John Saxon III, the connection was one worth making. "Some people may not think of basic science and the military as linked, but I thought that I could use OMRF's work as an opportunity to stimulate some basic bench science interest with cadets at service academies."
The year was 2009, and the Muskogee physician and OMRF Board member was searching for a way to honor his father's military service and support OMRF. With an initial gift of $250,000, he found a way to do both, establishing the John H. Saxon Service Academy Summer Research Program.
In June, OMRF welcomed its 13th class of Saxon Scholars. The quartet – two from the U.S. Naval Academy and one each from the Air Force Academy and West Point – brought the total to more than three dozen students from the U.S. military academies who have now spent parts of their summers at the foundation. In Oklahoma City, they work side-by-side with senior OMRF scientists, expanding their knowledge base as they train to become medical officers or serve in other technical roles in the military.
The program almost universally proves eye-opening for the students. "The breadth of this field surprised me," says Liam Sasser, a West Point cadet who worked on cardiovascular biology projects at OMRF this past summer. For Naval Academy midshipman Alexandra Foreman, her time in the lab will add valuable context to her biology classwork. "The hands-on nature of this experience has really helped me understand the material," she says.
OMRF scientists emphasize that the benefits of the program flow both ways. The students "are so focused, disciplined, respectful and motivated," says Dr. Sathish Srinivasan, Sasser's OMRF mentor. "They bring such a positive aura that it bleeds over into the rest of the lab." OMRF Vice President of Research Dr. Courtney Griffin, who's welcomed a number of Saxon Scholars in her lab over the years, agrees. "They're academically impressive and simply fearless."
Saxon, who has since supplemented his initial donation to grow the program, foresees long-term benefits to the scholars – and the country. "They'll be able to draw on this experience in their military careers, or maybe some will end up working for the National Institutes of Health or the Centers for Disease Control as part of our defense." To Griffin, each class of students also provides valuable reassurance: "We're in good hands if they represent the future leadership of our country."