A discovery at the Oklahoma Medical Research Foundation could lead to a new treatment for a heart valve condition impacting more than 6 million Americans.
In mitral valve prolapse, the heart's mitral valve doesn't open and close completely, leading to inadequate blood flow. The disorder results from a birth defect or natural wear and tear over time. It can cause fatigue, stroke and, in severe cases, heart failure.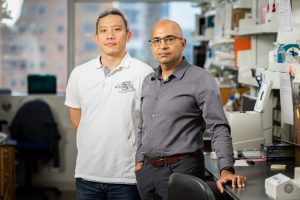 OMRF scientist Sathish Srinivasan, Ph.D., studies the lymphatic system, which transports tissue fluid throughout the body with the assistance of lymphatic valves. He wondered whether lessons learned from the lymphatic valves could also be applied to the heart valves.
"Lymphatic and heart valves are different, but we wondered, do the same molecules play roles in their function?" Srinivasan said. "It turned out to be a good guess."
Srinivasan's study, published in the journal Circulation Research, found that two proteins essential for lymphatic valve function – PROX1 and FOXC2 – are also key for good heart valve function.
In people who don't have one or both of the proteins, Srinivasan said, valves continue to enlarge out of check. Preventing this overgrowth may be an effective new approach to treat dysfunctional valves.
"We tested a treatment that can imitate the job of the two proteins in research models, and the valves showed major improvement in function," Srinivasan said.
This discovery is just the beginning, said Yen Chun Ho, Ph.D., a postdoctoral researcher in Srinivasan's lab.
"We have observed that other molecules known to operate in the lymphatic system are also present in the heart valves, so we know this is a promising direction for future work," Ho said.
The research was supported by grant R01HL163095-01A1 from the National Heart, Lung, and Blood Institute, part of the National Institutes of Health, and funding from the Oklahoma City's Presbyterian Health Foundation and the Oklahoma Center for Adult Stem Cell Research, a program of TSET.