U.S. Naval Academy students Sean O'Boyle and Timmy Wright, who interned this summer at the Oklahoma Medical Research Foundation, took disparate paths toward becoming midshipmen.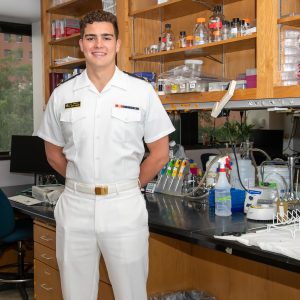 O'Boyle, the son of retired Navy physicians, knew early on that he wanted to follow in their footsteps. Wright was on a pre-med path at a private university when the Covid-19 pandemic closed his campus. Back home in Millville, New Jersey, he rethought his future and turned his sights toward a Navy career.
Both surrendered a month of leave to participate in OMRF's John H. Saxon Service Academy Summer Research Program, which compresses an intensive summer internship into a month. John Saxon III, M.D., a Muskogee physician and OMRF board member since 2000, established the program in 2009 to honor his father, a West Point graduate who taught at the U.S. Air Force Academy and was a career Air Force pilot.
"You're not going to find any more dynamic people than the cadets in our service academies," Saxon said. "My father told me that being a West Point graduate opened doors for him from then on, and I tell these students the same holds true about OMRF. Even if you're here for a short time, having that after your name means something."
Wright and O'Boyle worked in the lab of OMRF scientist Roberto Pezza, Ph.D., who's trying to determine the cause of cell-division errors that lead to infertility, miscarriages and certain birth defects. The pair tracked chromosomes in real time to better understand what happens when the process of cell division goes wrong.
With little hands-on lab experience, the midshipmen were struck by the culture of mentorship among their lab colleagues, likening it to life at the academy. "We're just undergraduates, and they passed on all this knowledge to help train and teach the people below. That's just like at the Naval Academy," O'Boyle said.
Wright called his time at OMRF eye-opening. "It might seem like studying chromosomes has nothing to do with the Navy, but it's the same hard work that goes into it," he said. "I have a greater appreciation for researchers. They're persistent. If something doesn't work, they learn from it, and they're onto something new."
Currently a chemistry major, Wright is exploring three options for his five-year Navy commitment after graduation: pursuing medical school, operating a ship or becoming a pilot. O'Boyle, an applied physics major from Steilacoom, Washington, plans to become a physician or a researcher.
Although his time at OMRF was brief, O'Boyle knows it will stay with him.
"There are incredible people here doing incredible things," O'Boyle said. "They're doing cutting-edge research that's going to help people live happier, healthier lives."