One scientist's path from rural India to America's heartland
As a young boy studying by the light of a kerosene lamp in his family's mud-and-straw home, Jasimuddin Ahamed imagined he might become a poet. Or perhaps he'd leave the remote farming village of Banti in West Bengal, India, to become a Bollywood movie idol or a cricket star.
But even in his wildest childhood dreams, he never envisioned a life as a scientist in America's heartland.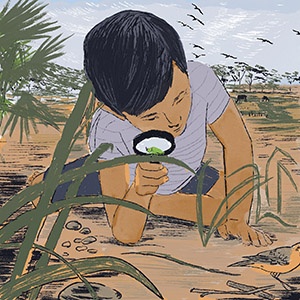 The eldest of six, Ahamed spent his formative years observing insects, animals and plants, particularly the migratory birds that visited his rural community. His childhood interest in fauna, says Ahamed, set him on a path to the sciences.
"Coming as I did from such a small village without even an elementary school, my parents doubted I would have the opportunities I needed to succeed in science," Ahamed says. "But I was fortunate to have an uncle who encouraged me to go after my dreams no matter how my prospects looked."
His uncle's village, some 30 miles away, did have a school. Ahamed moved there as a boy to pursue an education, trudging down unpaved roads often swollen by monsoons to attend classes, then returning home as frequently as he could to assist with the family's rice farm.
"I was an ordinary student in high school, barely passing the exams and, in fact, failed a level," Ahamed laughs. "But after completing high school, I was determined to focus on my first love: science."
Ahamed's father, a successful farmer, wanted him to bypass college and take a job at a local coal mine. He even arranged a position there for his son at a salary of 1,500 rupees, or $20 a month. But Ahamed's mother helped persuade his father to let their son move to Kolkata to pursue his dream of higher education, specifically, how the human body works in health and disease.
"It cost my parents an entire year's profit from their rice crop to pay for my stay in a hostel while I went to college," says Ahamed, who was the first in his family to go beyond high school. "I realized it would be the only opportunity I would probably get, so I studied hard."
At the University of Calcutta, Ahamed's sharpened focus paid off. He was soon promoted to an honors program and earned his bachelor's and master's degrees in physiology, later going on to complete his doctoral studies in biochemistry and physiology.
He found his niche in cardiovascular research and was selected to complete a year of training at the University of Pennsylvania. It was hard to get a U.S. visa, he says, and he had to borrow money for plane fare from his parents (whom he later repaid).
The trip from the subcontinent to Philadelphia was Ahamed's first time on a plane, and when he discovered he had a fear of flying. But the jaw-clenching journey proved worth it. His work at Penn earned him a prestigious postdoctoral position at Scripps Research in Southern California, followed by another at The Rockefeller University in New York.
When OMRF recruited him to join its Cardiovascular Biology Research Program in 2015, Ahamed says he found the foundation sort of a "mini Rockefeller," small in size but equal in intellectual and scientific pursuits. "OMRF is a place," he says, "where my work is valued and supported."
In his lab, Ahamed studies blood clots (thrombosis) that can lead to heart attack or stroke, and scarring (fibrosis) that can damage the heart muscle and other tissues. They are two of the leading causes of death in the U.S. in patients with cardiovascular disease and cancer.
With a new five-year grant from the National Heart, Lung, and Blood Institute, Ahamed is applying his knowledge of fibrosis to aortic stenosis, which occurs when the heart's main valve becomes stenotic or narrowed. The condition affects more than 200,000 Americans annually and can lead to serious heart problems.
Ahamed is building on his earlier discoveries to understand the mechanism that leads to the disease and, ultimately, to identify potential drugs for treating it. He also has his eye on Covid-19, devising experimental strategies to study the profound effects that the coronavirus has on the cardiovascular system.
His former mentor, Rockefeller professor and researcher Dr. Barry Coller, has watched admiringly as his protégé's research career has unfolded. "Jasim is an absolutely dedicated scientist who has an unquenchable thirst for new knowledge that can improve human health. At every step, he has devoted himself to obtaining the most rigorous training to prepare for an independent scientific career."
Ahamed's professional trajectory has carried him far from his native West Bengal, and he now considers himself an American. While he is proud of his Indian origins, he says his years here have helped him achieve much more than he could have in his homeland. "I used to have dreams about how America would be, but it was nothing I could have imagined." In 2017, with his wife, Anu, and his sons, Adil and Aaryan, there to share the moment, he became a U.S. citizen.
At the courthouse for the ceremony in downtown Oklahoma City, he was struck by the multitude of cultures represented by those who stood alongside him to take their oaths that day. "It was such a reflection of how diverse America is. I'm thrilled to be an American citizen."
These days, Ahamed doesn't think much about the life arcs he once mapped for himself in that mud-and-straw farmhouse in India. "I'm fortunate to be spending my career in a pursuit that has the potential to unravel the mysteries of human disease and, possibly, help all of humankind." And when that next discovery comes, it won't be by the light of a kerosene lamp.
_