Functional & Chemical Genomics Research Program
What We Do
The Functional and Chemical Genomics Research Program focuses on understanding the genetics of disease through the use of model systems. Combining the latest technologies in genomics, functional genomics, model systems biology, chemical biology and computational analyses, our scientists interrogate fundamental questions emerging from genetic and epigenetic studies of disease.
Investigators use computational and genetic model systems such as yeast, the roundworm C. elegans, zebrafish, fruit flies, mice and stem cells to evaluate genetic and epigenetic alterations in normal and diseased states. The goal of this program is to use biological understanding to define chemical mechanisms and create opportunities for therapeutic intervention. By employing a cross-disciplinary approach, scientists in this program seek to develop tools and methods that may be applied to:
Autoimmune diseases
Undiagnosed and rare illnesses
Metabolic diseases
Conditions related to aging
Cardiovascular disease
Cancer
Program faculty members and staff sustain a collegial and collaborative research environment. We strive to create an outstanding training environment for traditional graduate students, MD/PhD students, and post-doctoral fellows. New faculty receive extensive mentoring in career development and grant and manuscript preparation. Regularly scheduled meetings bring the Program community together for a Seminar/Research in Progress, a monthly grant planning forum and a yearly OMRF-wide research retreat.
Our Scientists
David Jones, Ph.D.
Member and Program Chair
Colon Cancer; Signaling; Precision Medicine
Magdalena Bieniasz, Ph.D.
Assistant Member
Ovarian Cancer; Patient-Derived Xenografts (PDX); Therpautic Targets of Cancer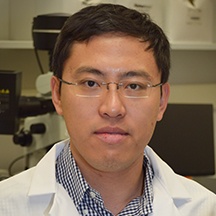 Jian Li, Ph.D.
Assistant Member
David Forsthoefel, Ph.D.
Assistant Member
Intestinal Regeneration; Adult Stem Cell Biology; Digestive Disease Modeling
Gaurav Varshney Ph.D.
Assistant Member
Genome Editing; Disease Models; Drug Discovery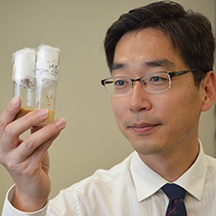 Wan Hee Yoon Ph.D.
Assistant Member
Core Labs
Our Publications
2017
*Laurence J, Elhadad S, Robison T, Terry H, Varshney R, Woolington S, Ghafoory S, Choi ME, Ahamed J. HIV protease inhibitor-induced cardiac dysfunction and fibrosis is mediated by platelet-derived TGF-β1 and can be suppressed by exogenous carbon monoxide. PLoS One. 2017 Oct 31;12(10):e0187185.  PMCID:PMC5663426
Sandoval IT, Delacruz RG, Miller BN, Hill S, Olson KA, Gabriel AE, Boyd K, Satterfield C, Remmen HV, Rutter J, Jones DA. A metabolic switch controls intestinal differentiation downstream of Adenomatous polyposis coli (APC). Elife. 2017 Apr 11;6. pii: e22706. PMCID: PMC5388534
2016
Varshney GK, Burgess S.  MDNA-guided genome editing using structure-guided endonucleases.  Genome Biology 2016 17:187. epub: 2016 15 September.  https://genomebiology.biomedcentral.com/articles/10.1186/s13059-016-1055-4
Borras E, San Lucas FA, Chang K, Zhou R, Masand G, Fowler J, Mork ME, You YN, Taggart MW, McAllister F, Jones DA, Davies GE, Edelmann W, Ehli EA, Lynch PM, Hawk ET, Capella G, Scheet P, Vilar E. Genomic Landscape of Colorectal Mucosa and Adenomas. Cancer Prev Res (Phila). 2016 Jun;9(6):417-27.  PMCID:PMC4941624
Contact Us
Functional & Chemical Genomics Research Program
Oklahoma Medical Research Foundation
825 NE 13th Street, MS 46
Oklahoma City, OK 73104
Phone: (405) 271-4527
Fax: (405) 271-3765
Email: David Jones, Ph.D.